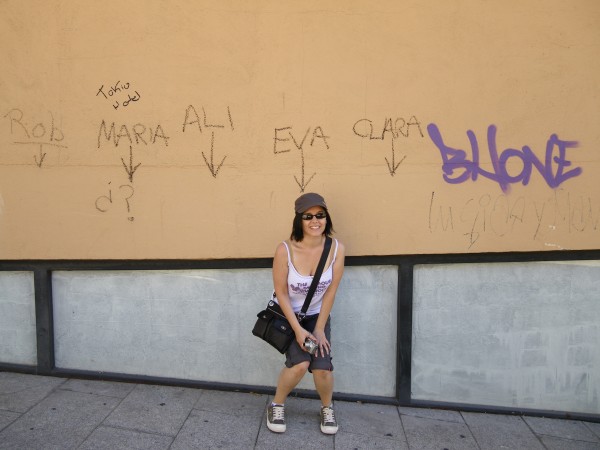 Hello I'm Eva, and welcome to Pastel Bakery! I'm located just north of Toronto (Canada), living a gluten free life (since 2008), due to my gluten intolerance. I LOVE to bake. When I was younger, I always wanted to whip up a batch of deliciousness. Christmas time would always be my excuse for baking ridiculous amounts of various treats. Maybe it's in my blood given my grandfather was a baker or maybe it was the influence of my mother who was always baking up some sort of goodie. Whatever it is, if I could, I would spend every waking moment baking.
I'm always happy to answer any questions, review any products or even be a guest blogger. Please feel free to contact me via email at eva(at)pastelbakery(dot)ca. You can also connect with me via any of my social media links.
Why Pastel Bakery?
You may wonder why I named my blog Pastel Bakery. Well, it's simply because pastel in Spanish means cake. I come from a Spanish household, and since my family was a major influence in my love of baking, I felt it was fitting. Ok, maybe given this is a gluten free specific blog I should have included the words 'gluten free' somewhere, but really I did not want to for one reason – discrimination. I'm sure any gluten free person knows what I'm talking about – when non-gluten free people give a weird look and turn away delicious desserts just because they are gluten free. Now I'm not saying that all non-gluten free people do this, but I have come across many that do. Nothing is more depressing, than handing someone a delectable cupcake you are so proud of creating, and they refuse it with a look on their face that says 'why are you trying to shove this weird thing down my throat?'. Who would have thought people would be so scared of a dessert? In my baking adventures, I strive to create gluten free desserts which do not taste 'weird'. Plus, I'd also like to think there have been significant improvements made to gluten free products in recent years. So…I'm hoping in addition to the gluten free folk salivating at their computer screens from seeing these delicious treats, that this blog will shine a new light on gluten free desserts to all the non-gluten free readers.
Likes:
~ Dessert, dessert and more dessert!
~ Tim Burton and anything to do with him
~ Fluevog shoes
~ Desigual fashion
~ Random6ix fashion
~ Music – it's always on when I'm baking!
~ Pugs – I don't own one, but maybe one day *sigh*
~ Christmas time and all the magic and excitement surrounding it!
~ Lip balm/gloss – I'm definitely addicted!
~ Fun and funky snocks – especially knee high ones! Yeah, so I'm weird.
Dislikes:
~ People who repeatedly ask me 'so if you eat even this small (gluten filled) piece of food, will you get sick?'
~ People not willing to give gluten free products a try – don't pre-judge!
~ Cleaning up after a day of baking – ugh, I wish I had little elves to help me!