Yes…I know…summer is slowly coming to an end.  But I've got something sweet to keep that summer feeling alive!  So brush away those tears, because today I bring you an easy Balsamic Berries recipe from a very special guest, PLUS…an awesome giveaway!  That's right, you heard me – A GIVEAWAY!
What could be more fitting than sharing a recipe with you guys from none other than Gordie Johnson – the front man for great Canadian reggae-rock band Big Sugar. Umm, hello? How could I NOT feature this recipe and giveaway on a dessert blog. Even his band name has 'sugar' in it!
Gordie Johnson loves food and has a passion for cooking with a wide variety of recipes in his collection. I was fortunate to be able to share one of his personal recipes with you today. This Balsamic Berries recipe comes together quickly with only a few simple ingredients. Perfect for spooning over ice cream or fruit, as suggested by Gordie himself. Or if you are looking for a non-dairy 'ice cream' treat (as I would myself), may I suggest spooning over some Coconut Bliss? Oh so good!
As mentioned, aside from sharing with you this delish berry compote, I also have a giveaway. Thanks to eOne Music Canada, I have one copy of the new Big Sugar album Yard Style to giveaway.  Note: giveaway only open to Canadian residents.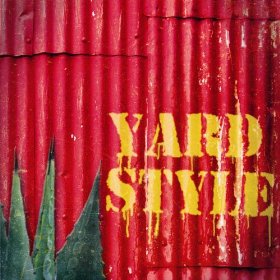 If you're not the winner of this awesome giveaway (or you do not reside in Canada), have no fear! You can still purchase Big Sugar's latest album through Amazon
Enter below for your chance to win Yard Style:
And what could be better than listening to some 'summer-vibed' music while preparing this berry recipe.  It'll even keep you warm on those cold winter days.  Warning: music won't actually keep you warm.  Be sure to bundle up when venturing out.  Or better yet, stay in and have yourself and bake-a-thon.
Pure deliciousness!
Enjoy,

"Here is one of my all time fav "go-to" summer desserts. The ingredients are pretty simple and usually on hand." - Gordie Johnson
Ingredients
Berries are the main ingredient. I prefer a mix of:

Strawberries (hulled & quartered)
Raspberries
Blackberries
Optional: Blueberries will also work as will Cherries (be sure to removed the stones)

You will also need:

Granulated sugar
Balsamic Vinegar
A large sauce pan
Fresh cut strips of basil
A bit butter or olive oil (for the non-dairy version)
Method
Saucepan on medium heat, melt butter (or oil).
Add the berries to pan, as they start to sweat add a drizzle of balsamic vinegar. For 3 clamshell containers of berries you might use about 1 1/2 tbsp.
Sprinkle about a 1 tbsp of sugar (note: the sugar and vinegar measures may be less, depending on the ripeness of the berries)
As the berries sauté , they will release their juice which will mingle with the vinegar, which will
in turn dissolve the sugar.
Turn the heat down a little.
Be sure to stir gently as not to beat up the berries. They will break down naturally.
When all ingredients start to simmer gently and thicken, you are about done.
You will end up with a jammy berry compote. This can be used to spoon over ice-cream
or over fresh cut fruit for a non-dairy option (strawberries or peaches).
Just before serving, slice fresh basil leaves very thin and sprinkle a few strands on each serving. They will add an interesting, peppery freshness to the dish.
http://www.pastelbakery.ca/balsamic-berries/
Copyright 2014 Pastel Bakery: Gluten Free Desserts . All Rights Reserved | www.pastelbakery.ca
Disclosure: I was provided with a recipe from Gordie Johnson's personal collection and am not being compensated to feature it.  Big Sugar album (Yard Style) was provided to me by eOne Music Canada.  I am not being compensated for hosting this giveaway.