I absolutely love, love, love fall! Fall is my favourite season of all. No crazy humid days where you drip sweat as soon as you walk out the door. The sun is shining just enough to keep you slightly warm as the crisp fall air passes you by. Comfort food, spiced desserts, cozying up under a blanket while watching an in-home movie, and fall fashion (bring on the knee high socks I say!). Love it! All this fall anticipation made me want to indulge in fall treats and so these Gluten Free Dairy Free Caramel Apple Spice Muffins were born.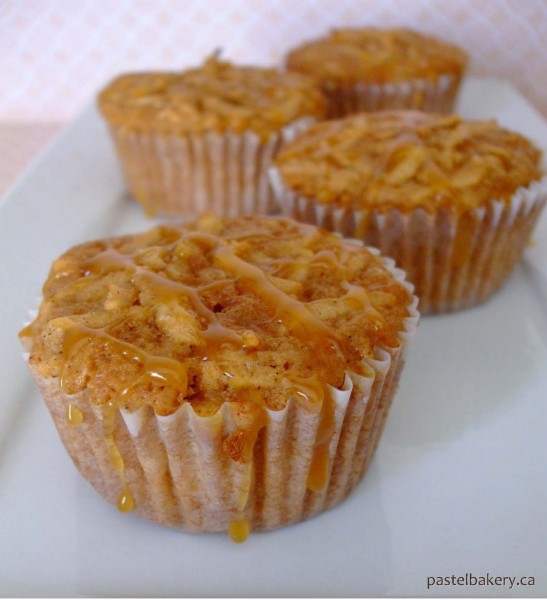 The beginning of the fall season means apple picking time in Ontario. I remember my parents taking my brother and I apple picking as kids. My favourite part was hitching a ride from the farm wagon which would drive us through the muddy trails and over to the apples which clinged to the trees, patiently waiting to be picked. Feeling a bit nostalgic, I got into full Fall gear and headed to a local organic apple farm with my sister-in-law Mel, (or as some of you may know her, the brains behind Glutrition). What better way to ring in the Fall season than to spend an afternoon picking apples. Or as we called it 'Superficial Apple Picking' – only the cute/good looking apples were right for the picking!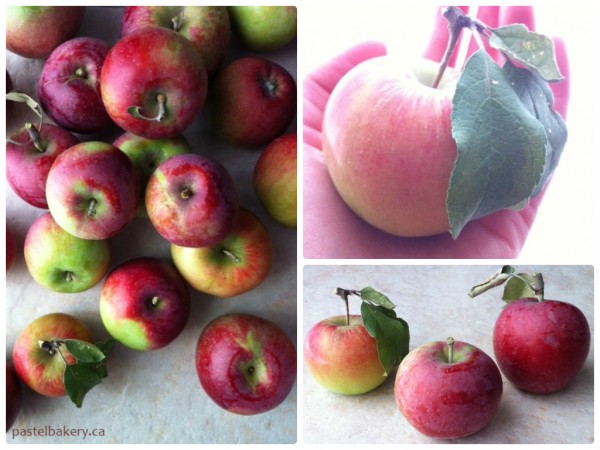 I had never been to Organics Farm, but Mel said the apples were great – and they definitely were!  We could also see the farm was expanding their apple tree selection as there were new rows with baby trees. The farm was a busy place that afternoon. It seems everyone took advantage of the great weather we had this first day of Fall.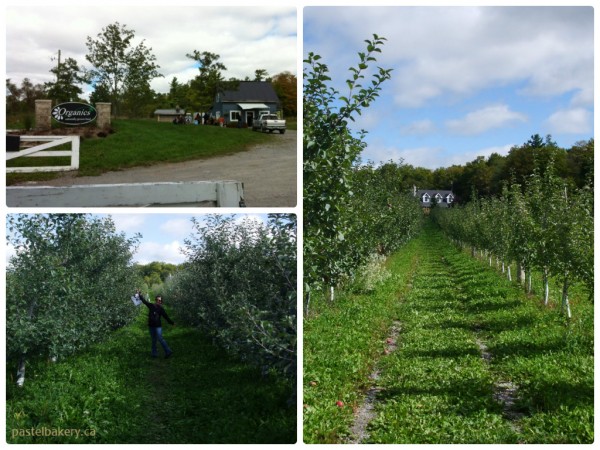 I realize in my previous post I had mentioned I would post a cake recipe to celebrate my one year anniversary, but I just had to give into this fall temptation. And to be honest, I had originally planned on making these into cupcakes, (and we know frosting is a great way to celebrate!), but once they came out of the oven I realized just how great they were on their own sans frosting. They're decadent but not overly sweet. The best part (aside from devouring these beauties), was baking them. Smells of sweet vanilla and spices, warm apple and rich caramel filled the house – absolute divine!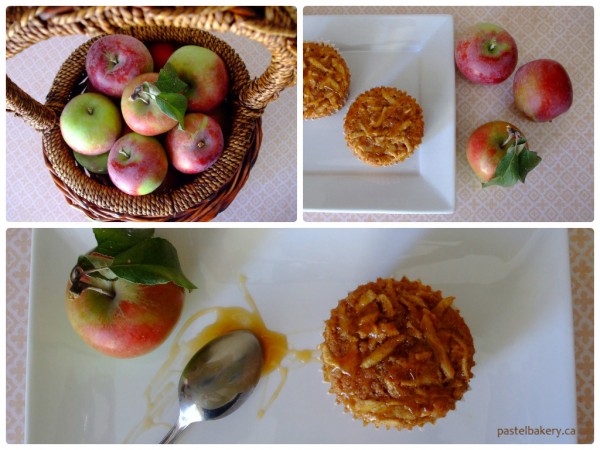 Which is your favourite season?
Pure deliciousness! Enjoy!
Eva
Note:  If you prefer a less decadent taste, you can omit the caramel from the muffin batter.  Drizzle any extra caramel over the baked muffins once they are completely cooled.
Gluten Free Dairy Free Caramel Apple Spice Muffins
These muffins are so moist, filled with fresh apples and homemade dairy free ooey-gooey caramel!
Ingredients
For Muffins:

3/4 cup brown sugar
1/2 cup brown rice flour
1/2 cup sorghum flour
1/4 cup almond flour
1/4 cup tapioca starch
2 tsp baking powder
1 tsp ground cinnamon
1/4 tsp, each ground nutmeg and ground ginger
1 egg
1/4 cup light olive oil
1/2 tbsp vanilla bean paste
1/2 cup almond millk
1 cup peeled and grated apple (about 1 large, best for baking)
2 tbsp homemade dairy free caramel (recipe below)

For Dairy Free Caramel:

1/2 cup white sugar
2 tbsp water
1/8 cup almond milk (or more if needed to reach desired consistency)
1 tbsp dairy free margarine/buttery spread
Method
For Muffins:

Preheat oven to 400°F. Line muffin trays with paper liners and set aside.
In large bowl, combine sugar, flours, starch, baking powder and spices. Set aside.
Peel and grate apple; set aside.
In medium bowl, whisk together egg, vanilla and oil. Add half of dry ingredients and half of milk and mix until just combined. Add remaining dry and milk and mix until just combined.
Stir in caramel.
Using spatula, gently fold in grated apples until just combined.
Fill liners 2/3 full. Bake for 22-24 min, or until centers spring back when lightly touched.
Let cool in muffin trays for 5 min before transferring to wire rack to cool completely.

For Dairy Free Caramel:

In a small saucepan over med-high heat, boil water with sugar. Do not stir. If you find the sugar is sticking to the sides of the pan, you can gently rotate the pan over the heat.
Sugar will begin to caramelize once it boils.
Once it reaches a rich amber colour, remove from heat. Be careful not to burn sugar.
Slowly and careful, with your face away from the pan, stream a bit of milk down the side of the pan. Stir until mixed.
Repeat and mix until caramel is creamy.
Stir in dairy free margarine and stir until mixed.
Pour into glass container and set aside until slightly cooled. Store in refrigerator. Can be made ahead. If making the same day you are making muffins, make sure the sauce is completely cooled before adding to muffin batter.
You may find you need to add a bit more milk to reach the desired consistency. To test consistency, I coated the back of a spoon and let it sit for a few seconds. If it drys hard, add a bit more milk (about 1 tsp at a time). If it stays coating the spoon and is gooey, you've got yourself some good dairy free caramel!
http://www.pastelbakery.ca/gluten-free-dairy-free-caramel-apple-spice-muffins/
Copyright 2014 Pastel Bakery: Gluten Free Desserts . All Rights Reserved | www.pastelbakery.ca