Ok, it has DEFINITELY been a while since I shared a recipe with y'all. Over 9 months! 9 MONTHS!! Wow.  I got so swept up in mama-hood that I completely lost track of time. Mind you, I haven't had much time to bake. Little E keeps me busy and on my toes for sure. Especially since she is now starting to pull herself up and will probably be walking in no time (yikes!). About a month ago (hmmm…or maybe even a bit more), I had a quick chance to bake this Gluten Free Dairy Free Chocolate Almond Bundt Cake. I had wanted to share this recipe way back, but like I said, it's been busy.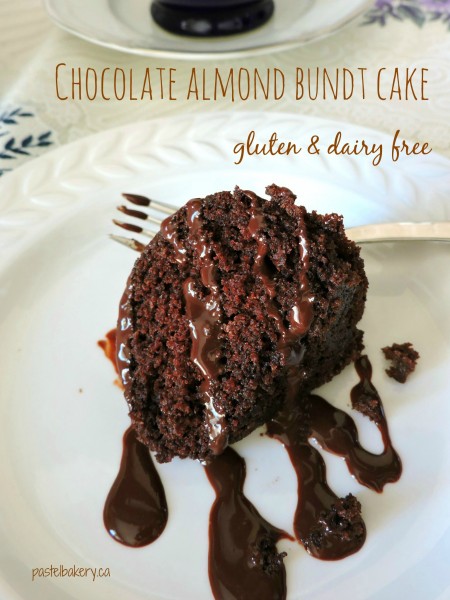 Even though I don't have much time to bake, I was missing it and getting tired of buying gluten free sweets. I was craving something homemade and so I finally got around to making this cake. So, between prepping baby food and dinner for hubby and me, I quickly gathered supplies and whipped up this cake. I had leftover water from a can of coconut milk I previously opened to make whipped coconut frosting – failed experiment by the way. To be honest though, it probably was because it was light coconut milk, which I know is a no-no when it comes to making frosting. But can you believe I couldn't find the regular stuff after checking 3 stores?? So, given the 'water' looked more like the full coconut milk (because it probably was since nothing separated when I tried making the frosting), I'm sure this recipe will work with either the milk straight up or the leftover water, given I was using a light version. The dairy free ganache is optional, but absolutely divine! It's pretty quick and simple to prepare so I highly recommend taking the extra step. Trust me, you'll thank me later.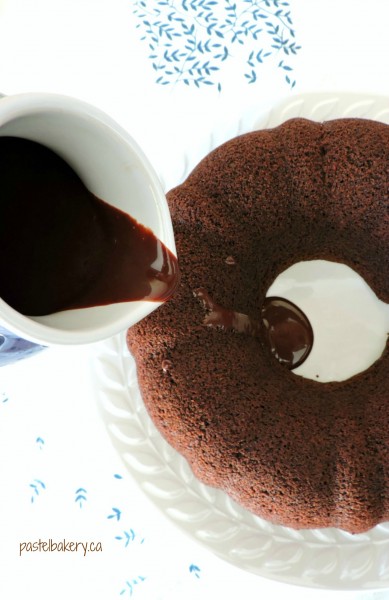 These days fast, quick and easy are the recipes I need. With such limited time available, especially since E believes a 30min nap (on the dot if you can believe it!) is sufficient, it's the best I can do. Eventually I know that I will get time back and before I know it, E will be helping me bake in the kitchen. I honestly can't wait for that day to come. It will definitely be too cute!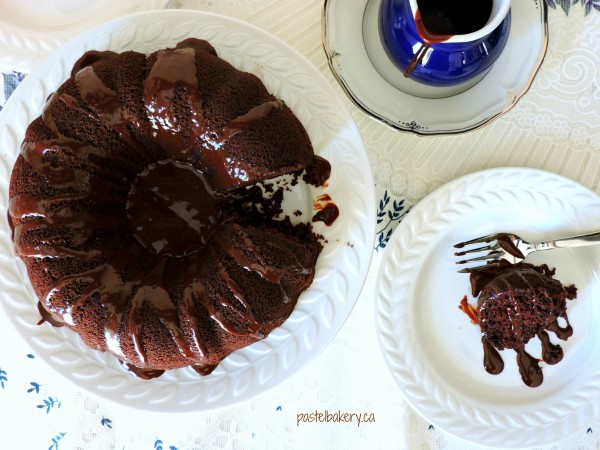 So before the 30 minute nap is up, here is the quick and easy recipe for this Gluten Free Dairy Free Chocolate Almond Cake.
Pure deliciousness!
Enjoy,

Gluten Free Dairy Chocolate Almond Bundt Cake
This chocolate almond bundt cake is quick and easy to make and doesn't require a mixer. The dairy free ganache is optional, but so simple to make and worth the extra step.
Ingredients
1 cup almond flour
1/2 sorghum flour
1/4 cup unsweetened cocoa, sifted
1 tbsp tapioca starch
1 tbsp baking powder
1 tsp baking soda
1 tsp ground cinnamon
2 eggs
1/4 cup light olive oil
1 tbsp vanilla bean paste
1/2 cup granulated sugar
1/2 cup canned coconut milk (see note in post above re: what I used)

For Dairy Free Ganache:

1/2 cup dairy free chocolate chips
1/4 cup canned coconut milk
pinch of ground cinnamon (optional)
Method
Preheat oven to 350°F. Grease a bundt cake pan and set aside.
In a medium bowl, combine dry ingredients (first 7 on the list) and set aside.
In a large bowl, beat eggs with oil, vanilla and sugar.
Stir in 1/2 of dry ingredients and 1/2 of coconut milk and combine.
Repeat and mix until just combined.
Pour batter into prepared pan and bake in oven for 22 minutes or until tester inserted in center comes out clean.
Let cool for about 10 minutes in pan before removing and placing on wire rack to cool completely.

For Dairy Free Ganache:

Place all ingredients in a saucepan over low heat.
Stir until chocolate chips are almost melted. Remove from heat and continue to stir until no lumps remain
http://www.pastelbakery.ca/gluten-free-dairy-free-chocolate-almond-bundt-cake/
Copyright 2014 Pastel Bakery: Gluten Free Desserts . All Rights Reserved | www.pastelbakery.ca