I recently celebrated a birthday with a slice of this Gluten Free Dairy Free Hot Chocolate Cake. And no, I won't be sharing how many candles were on my cake this year. Nope, ain't gonna happen. Not that I'm ashamed of my age, really it's just a number, but on the other hand…who wants to be reminded of how old they are getting?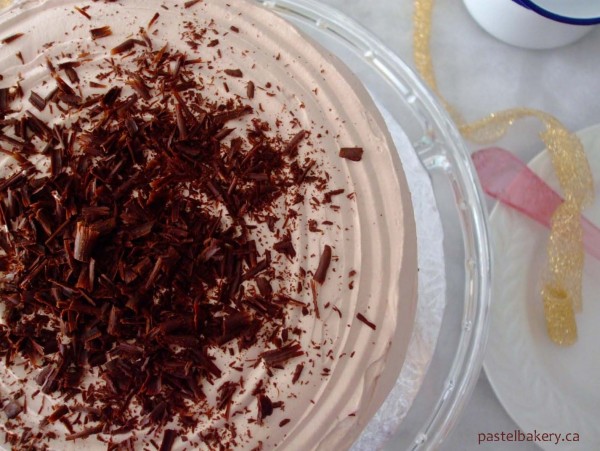 Alright, I suppose the important part is how you feel and not how many candles were on the cake and if you're capable of blowing them out in one shot or not. Which on a side note, this year I had problems blowing out the limited candles on my birthday cake. Seems I may be a bit out of shape. Yeah; let's go with it being out of shape.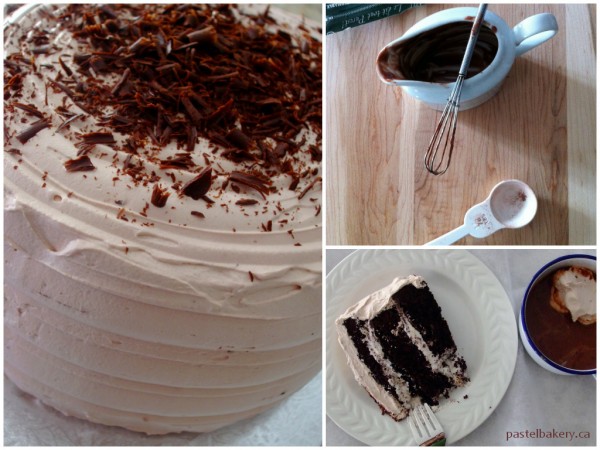 Of course, birthdays were much more fun as a kid. You have a party with balloons and all sorts of decorations. You look forward to more birthday parties and gifts. When you're a teenager you look forward to getting older and coming of age. And most importantly you eat lots and lots of cake without thinking, 'how many calories is this exactly'? It seems the older we get, the less we party, the more we want to turn back the clocks, and every calorie we consume is tracked. And why? Shouldn't birthdays be for celebrating and special treats? Heck, it's just one day out of the year and you only live once. And this cake is perfect for that one day out of the year indulgence.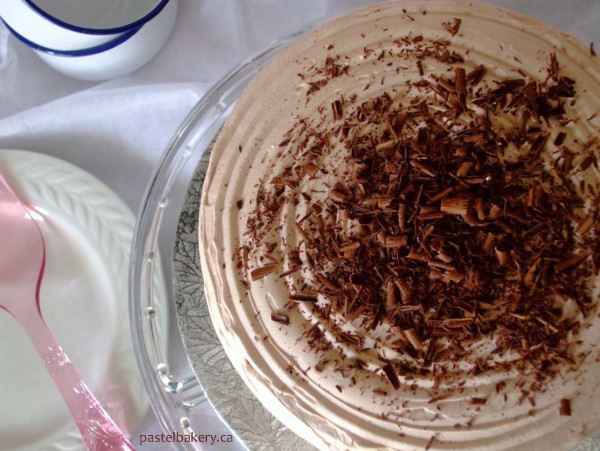 Being a mid November birthday, it's typically a chilly celebration, so I felt a Hot Chocolate Cake was in order. It's a moist chocolate cake (which is the same recipe I used in my last post), with layers of ooey-gooey marshmallow filling, covered in a fluffy whipped topping, with a hint of hot chocolate mixed in. To kick it up a notch, I added a touch of pure peppermint extract to the marshmallow filling – soooo good! Can I just say this is probably my favourite filling right now! So glad I found this recipe on the talented Sweetapolita's site. It's really such a simple and yummy filling and goes great with chocolate cake.  The fluffy whipped topping recipe is similar to one I used in a past post.  This cake really is like hot chocolate…but in cake form!
Unfortunately I wasn't able to take any great pictures of the cake sliced during the day. The pictures I've included here are the few leftovers (yes, surprisingly there were some!). The birthday celebration was in the evening, and had I taken any photos then of the cut cake…well we know what bad lighting can do. So, although the cake slice may look messy, it doesn't affect the deliciousness of it. Trust.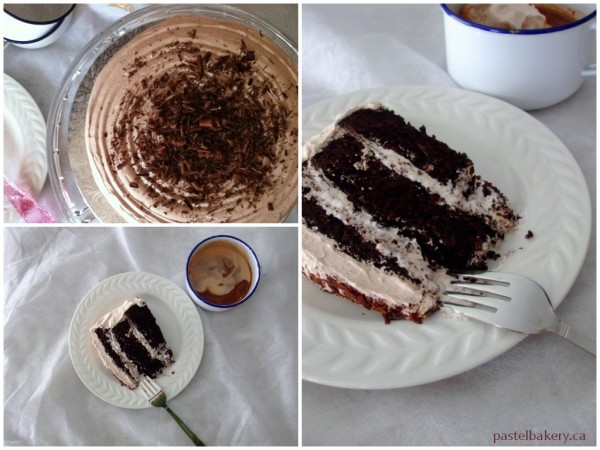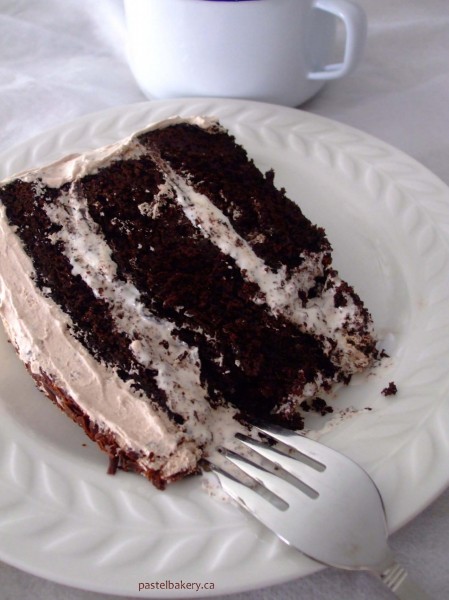 So for your next birthday, I say go ahead; make this cake. Party like a kid, stop counting the years and calories and indulge a little. I won't tell if you don't. 
Pure deliciousness! Enjoy!
Eva
Gluten Free Dairy Free Hot Chocolate Cake
An easy to make moist chocolate cake, filled with layers of gooey marshmallow with a hint of peppermint. Covered in a light whipped hot chocolate kissed topping. Perfect indulgence on a chilly day!
Ingredients
For Cake:

3/4 cup granulated sugar
3/4 cup brown sugar
3/4 cup almond flour
3/4 cup sorghum flour
3/4 cup unsweetened cocoa, sifted
1/3 cup buckwheat flour
2 tbsp tapioca starch
2 tsp baking soda
1 tsp baking powder
1/4 tsp salt
1 tbsp instant espresso or strong coffee
1/2 cup warm water
2 eggs, room temperature
2 tbsp light olive oil
2 tsp pure vanilla extract or vanilla bean paste
1/2 cup almond milk

For Marshmallow Peppermint Filling (adapted from

Sweetapolita

)

16 large marshmallows
1 cup icing sugar, sifted
1 cup dairy free spread (such as Earth Balance Buttery Spread)
3/4 tsp pure peppermint extract
1 jar (213g) marshmallow cream (such as Fluff which is gluten free)
1 tsp almond milk

For Whipped Topping:

1 cup Nutri-Whip DessertTopping (or another gluten free dairy free dessert topping)
2 tbsp hot chocolate mix (I used Purest Marvellous Mix)
3 tbsp icing sugar
Method
For Cake:

Preheat oven to 350°F. Grease an 8"x3" high cake pan; set aside.
In a large bowl, combine sugars, flours, cocoa, starch, baking soda/powder and salt. Set aside.
In a small bowl or glass measuring cup, dissolve coffee with water. Set aside.
In bowl of mixer, combine egg with oil, vanilla and coffee.
Mix in about 1/2 of dry ingredients while slowly streaming in about 1/2 of milk. Repeat and mix until batter is smooth.
Pour into prepared cake pan and bake in oven for 40-45 min or until tester inserted into center comes out almost clean. You may find a few crumbs will stick to your tester but this is ok as long as it is not runny. Cake will also pull away from the sides of the pan when it is done, and may slightly dip in the center.
Place cake pan on wire rack and let cool for at least 20 minutes. Invert onto wire rack and let cool completely.
Best if baked 1 day before cutting/filling/frosting. Store in an airtight container in a cool location.

For Marshmallow Peppermint Filling:

Line a large cookie sheet with parchment or aluminum foil sprayed with non-stick cooking spray.
Place marshmallows on sheet side by side.
Place sheet on lowest rack in oven and broil until tops are browned (about 1 minute depending on strength of oven). Keep a close eye to ensure you don't burn them!
Remove sheet from oven. Carefully flip over each marshmallow, return to oven and repeat. Once done, remove from oven and set aside.
In bowl of mixer, combine dairy free spread and sugar and blend on med-low speed.
Add peppermint and mix on med-high for about 2 minutes.
Add the toasted marshmallows and marshmallow cream and mix on low speed. Add in almond milk and combine until smooth.
Use immediately or store in refrigerator for up to 1 week.

For Whipped Topping:

Warm up about 1/4 cup Nutri-Whip in microwaveable cup/bowl (about 30 seconds).
Add hot chocolate mix and stir to dissolve. Set aside.
In bowl of mixer, add remaining Nutri-Whip along with hot chocolate mixture. Using whisk attachment, beat on med-high for about 2 minutes.
Add in icing sugar and beat again for 1 minute or until thick ribbons form.
Use immediately or store in airtight container in refrigerator for up to 5 days. You can then re-whip by hand if necessary.

For Assembly of Cake:

Cut each cake in half using a serrated knife or cake leveler.
Place a few dabs of the marshmallow filling on a cake board where the cake will sit. Place the first cake layer on top.
Place a couple of spoonfuls of the marshmallow filling on top of the first cake layer. Note, the filling will spread out and remember not to fill too much or the filling will overflow.
Place the second cake layer on top and repeat the process until you finish with the last cake layer on top.
Cover the assembled cake with the whipped topping using a large offset spatula. Decorate as desired.
The cake can be assembled the day before as long as it is kept in an airtight container in a cool location or in the refrigerator.
Notes
I baked 2 cakes and cut them in half to make this a 3 layer cake (note, the recipe above only makes one 8" cake). I froze the leftover layer to use at another time, however you could choose to make this a 4 layer cake instead. If so, you should have enough marshmallow filling (as the recipe above allows for about 1 cup leftover), but you may need to make a larger batch of the whipped topping. I would recommend increasing the Nutri-Whip by about 1/2 cup to give you a total of 1 1/2 cups
http://www.pastelbakery.ca/gluten-free-dairy-free-hot-chocolate-cake/
Copyright 2014 Pastel Bakery: Gluten Free Desserts . All Rights Reserved | www.pastelbakery.ca