Local peaches are popping up all over stores and markets these days. If you're like me and have gone peaches overload, this recipe for Gluten Free Dairy Free Peach Olive Oil Crumb Cake may be the answer to your problem.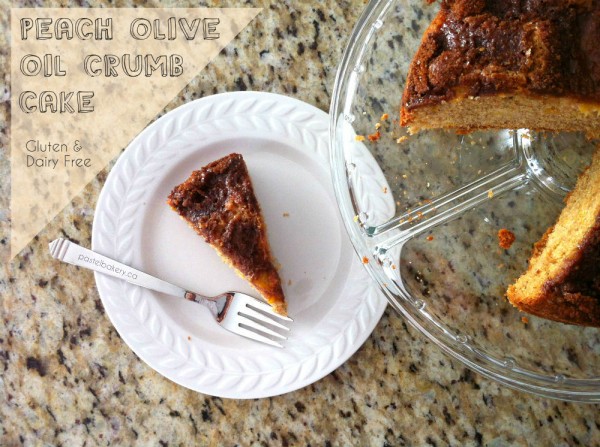 Aside from having made a gluten free peach pie many years ago, this is the only other 'peach inspired' dessert I've made. I was tempted to make a pie, but the thought of having to make the dough from scratch turned me off. What can I say; I've become a bit lazy in my last few weeks of pregnancy – but on the other hand, I'm enjoying taking it easier than usual. For a while now though, I've been saying I would stop baking and start up again sometime after the baby is born. I don't know how I do it, but it seems I'm still baking at least once a week. And every time it's the same thing. I get super tired and say, this time will be the last time. Of course, silly me…still haven't learned that I just keep lying to myself. But seriously, I think THIS will be the last time I bake before the baby is born…ugh, who am I kidding?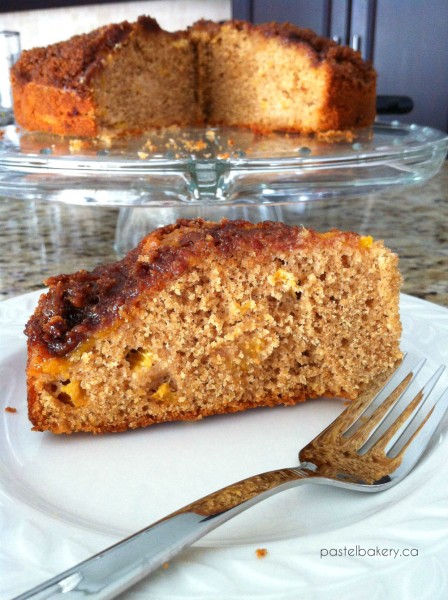 I guess the whole 'bake your own desserts instead of buying them' was instilled in me at a young age. I recall my mom used to say often, why would I buy a cake when I can just bake my own? And so it seems, I now find myself thinking the same way. Although really, it's not a bad thing when you think about it, considering how a lot of premade baked goods have many extra 'special ingredients' added to them. At least I know what goes into my baked goodies. And hopefully one day I will pass this thinking on to my child.
Pure deliciousness!
Enjoy,

Gluten Free Dairy Free Peach Olive Oil Crumb Cake
A moist cake made using fresh local peaches. Perfect for peach season!
Ingredients
3/4 cup brown rice flour
1/2 cup sorghum flour
1/4 cup potato starch
1/4 cup tapioca starch
1 1/2 tsp baking powder
1 tsp ground cinnamon
1/2 tsp ground ginger
3 eggs, room temperature
3/4 cup brown sugar
1/2 cup light olive oil
1 tbsp vanilla bean paste
2 peaches, pitted, peeled and diced

For Topping:

2 peaches pitted, peeled, cut in quarters and thinly sliced
1/2 cup brown sugar
2 tbsp almond flour
2 tsp ground cinnamon
1/2 tsp ground ginger
Method
Preheat oven to 350°F. Line the bottom of a 9" springform round pan with parchment paper and lightly grease sides; set aside.
In a small bowl, combine all topping ingredients except the peaches; set aside.
In medium bowl, combine first 7 ingredients; set aside.
In large bowl, whisk together eggs, sugar, oil and vanilla. Add in flour mixture a 1/3 of a cup at a time, gently mixing between each addition.
Stir in diced peaches.
Pour batter into prepared pan.
Arrange the thinly sliced peaches tightly on top of the batter in a circular pattern, then sprinkle topping evenly over peaches.
Place pan in oven and bake for 1 hour or until tester inserted in center comes out clean.
Let cool for about 10 minutes before loosening from sides of pan and another 10 minutes before removing pan bottom and letting cake cool completely on a wire rack.
Notes
You may want to place the springform pan on a lined cookie sheet before putting in the oven, incase any batter seeps out from the bottom of the pan.
http://www.pastelbakery.ca/gluten-free-dairy-free-peach-olive-oil-crumb-cake/
Copyright 2014 Pastel Bakery: Gluten Free Desserts . All Rights Reserved | www.pastelbakery.ca