I'm back, and as promised in my last post, have returned with a perfect easy to prepare summer dessert. These Gluten Free Roasted Strawberry & Whipped Cream Cakelets are such a cinch to put together. Light, fluffy and refreshing, you'll look forward to making dessert and will even offer to bring dessert to any backyard BBQ's you've got going on this summer season.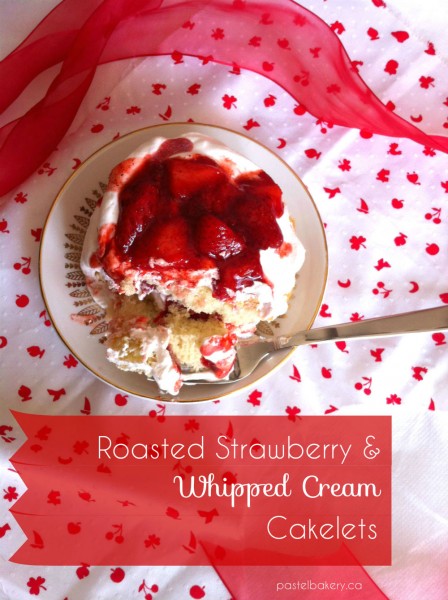 While on one of my daily tours through Pinterest, I came across a recipe from Food Retro for a 4 Ingredient Sponge Cake. This definitely intrigued me. Could a cake with only 4 ingredients really be so light and fluffy? Easy to prepare…ok, I can buy that given there are only 4 ingredients, but fluffy and melt in your mouth? Guys…it totally is! I honestly could not believe just how fluffy this cake turned out! Sooo good. And with just a few ingredients needed, it's the perfect cake to whip up when in a hurry, or if you haven't restocked your pantry (as this happens to me quite often!). The original recipe was not gluten free, but I converted it with no problems. Love it! The taste reminded me of the lady finger biscuits used in a tiramisu. And yes, I'm way ahead of you…next experiment will be to use this cake in place of biscuits to make a gluten free tiramisu. Figured it's a more affordable version since the gluten free biscuits used in tiramisu are super expensive over here. Of course I'll have to wait a while on testing that recipe, seeing how it would involve using coffee and I don't want to send baby on a caffeine episode.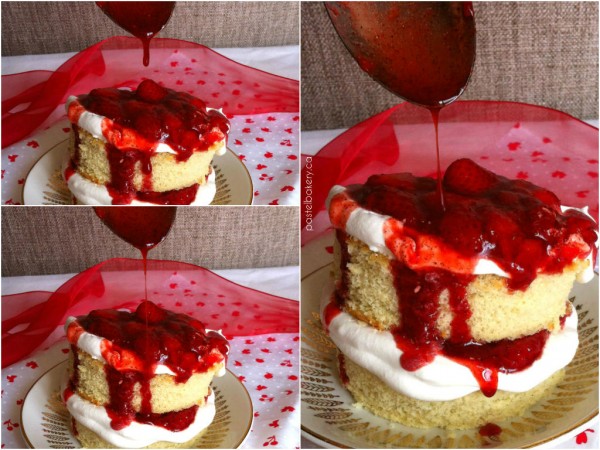 Having tested out this cake around the same time I made these Roasted Strawberries, I thought, what a perfect and easy summer dessert it would make to combine the two. So with a little bit of whipped topping, these Gluten Free Roasted Strawberry & Whipped Cream Cakelets were born. I opted for using Truwhip whipped topping. Really, if you don't have a dairy issue, I would think whipping up some fresh whipping cream would be pretty awesome as well. But, if I went that route, I'd probably be keeled over for a few days, cursing this fantabulous dessert. Nah, didn't want to go there. However, on the other hand, I couldn't bring myself to purchase a certain popular frozen whipped topping in a tub. Ya'll know which one I'm talking about. Just looking at the ingredients made me cringe, and I couldn't do it. Then I remembered Truwhip whipped topping. Gluten free and 100% natural? Yup. I'm in. Now, it does contain a small bit of milk, but not enough to make me react the way a full blown dairy product would. However, if you are allergic to dairy, or extremely sensitive, you will have to go with plan B (maybe whipping up some coconut milk?).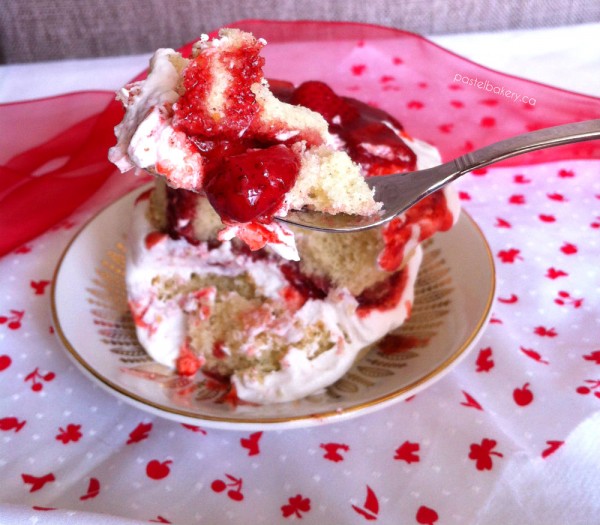 And what to do with the cake scraps you'll have from making these cakelets?  I'm sure you won't have any issues there.  If you're like me, you'll just devour them on their own.  Or if you have more will power, they would probably work great in a trifle.
Pure deliciousness!
Enjoy,

Roasted Strawberry & Whipped Cream Cakelets
A light & fluffy sponge cake filled with roasted strawberries and light whipped topping. A perfect summer dessert!
Ingredients
6 eggs, separated
1 cup granulated sugar
1/2 cup white rice flour
1/4 cup tapioca starch
1/4 cup potato starch
1 tbsp vanilla bean paste
1 recipe of Roasted Strawberries
About 1/2 tub of whipped topping (I used Truwhip Whipped Topping)
Method
For Easy Vanilla Sponge Cake:

Grease a 9x13 pan; set aside.
Preheat oven to 350°F.
In small bowl, combine flour and starches and set aside.
In bowl of mixer (make sure it's completely grease free), whip the egg whites with 1/2 cup sugar and vanilla until stiff peaks form.
In a separate medium bowl, whisk the egg yolks with the remaining sugar until mixture turns a light yellow (about 2 minutes).
Carefully fold the yolk mixture into the egg white mixture, using a spatula.
Gently fold in the flour mixture 1/3 of a cup at a time, making sure not to over mix.
Pour batter into pan and bake for 25-30 min, or until tester inserted into cake comes out clean (if using a dark pan you may find it's ready in 20-25 min).
Let cool in pan for about 5-10 minutes before inverting onto wire rack to cool completely.
Note: cake will deflate once it begins to cool.

For Cakelet assembly:

Using a round cutter (I used one about 3" wide), cut out 6 circles from the sponge cake (2 circles will be used for each cakelet).
Place one cake round onto plate. Spread about 1 tbsp of whipped topping on top. Drizzle with about 1 tbsp of roasted strawberries. Place another cake round on top and repeat.
Serve immediately.
Notes
http://www.pastelbakery.ca/gluten-free-roasted-strawberry-and-whipped-cream-cakelets/
Copyright 2014 Pastel Bakery: Gluten Free Desserts . All Rights Reserved | www.pastelbakery.ca