Come gather round the campfire and sing our campfire song. Our C-A-M-P-F-I-R-E-S-O-N-G song…..I could carry on with this great SpongeBob tune, but I won't. I'd say this hilarious episode inspired me to create this gluten free s'mores cupcake recipe (if you're in need of a good laugh, I recommend watching a clip of the song here). I'm not sure about you, but when I think s'mores, I think of sitting around a roaring campfire and devouring this delicious treat. The combination of melted chocolate, soft graham cracker and ooey gooey melted marshmallow can only be summed up in one word – DELICIOUSNESS!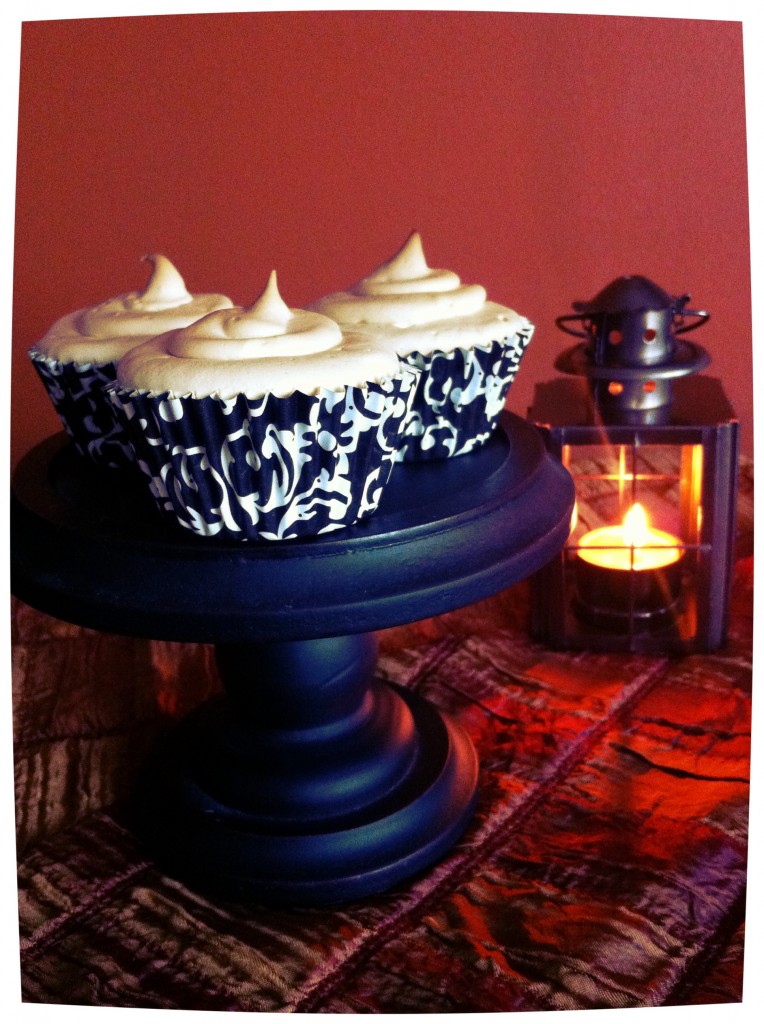 And now to see it converted into a cupcake delight – how sweet it is! What to do about this craving though? Stand outside a bakery, with my face pressed up against the glass, while the gluten tolerant folk sit back and indulge in their s'moreific cupcake? Nay, I must bake this delight as a gluten free treat…and I must do this at once!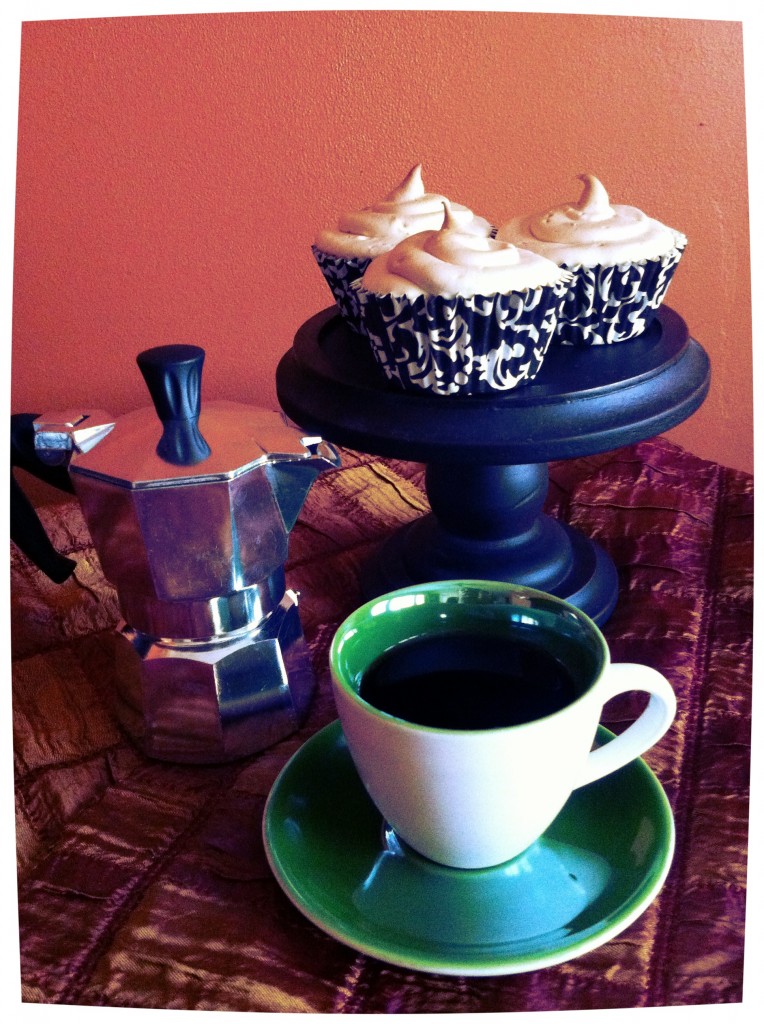 I made a graham cracker crust for the bottom of the cupcake, which I pressed into the cupcake liners and baked slightly (just so the crumbs would stick together). I used S'moreables Graham Style Crackers from Kinnikinnick Foods, which ground up nicely into graham crumbs.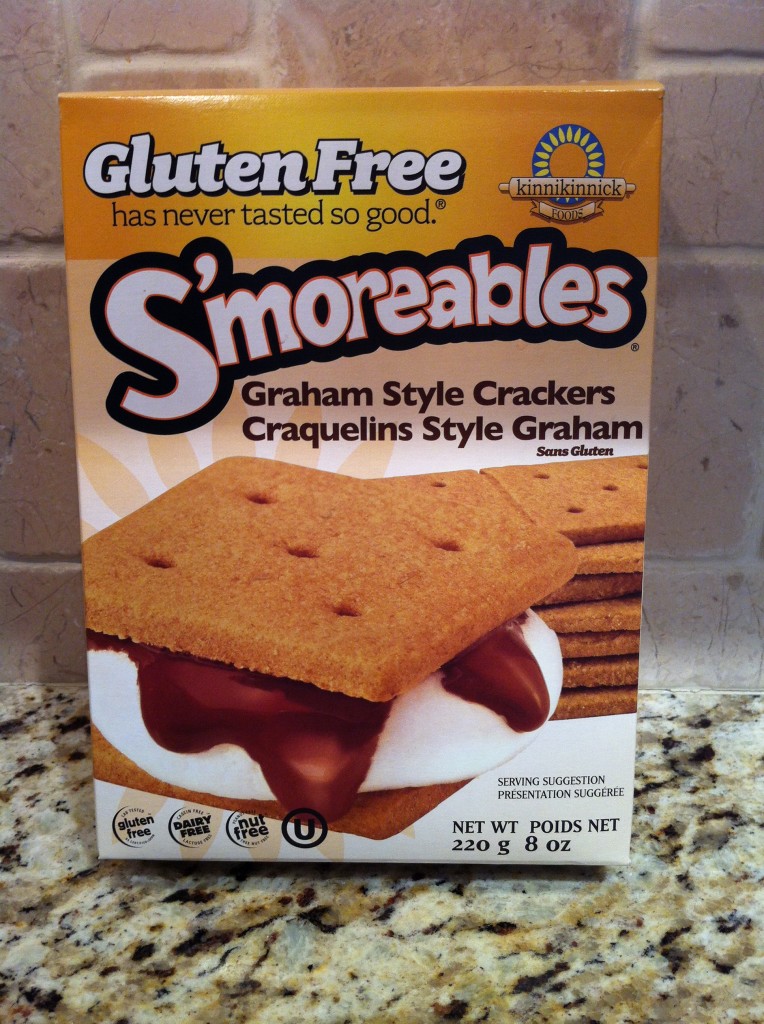 Then I whipped up a batch of chocolate cupcakes and topped it off with a marshmallow flavoured meringue. I used marshmallow flavour from LorAnn Oils to give it a true marshmallow taste – and boy did it ever! The meringue was sooo yummy! The final product was then put back in the oven (on the broil setting), to slightly toast the marshmallow topping – and there lies the ooey gooey marshmallow (insert salivating sound here).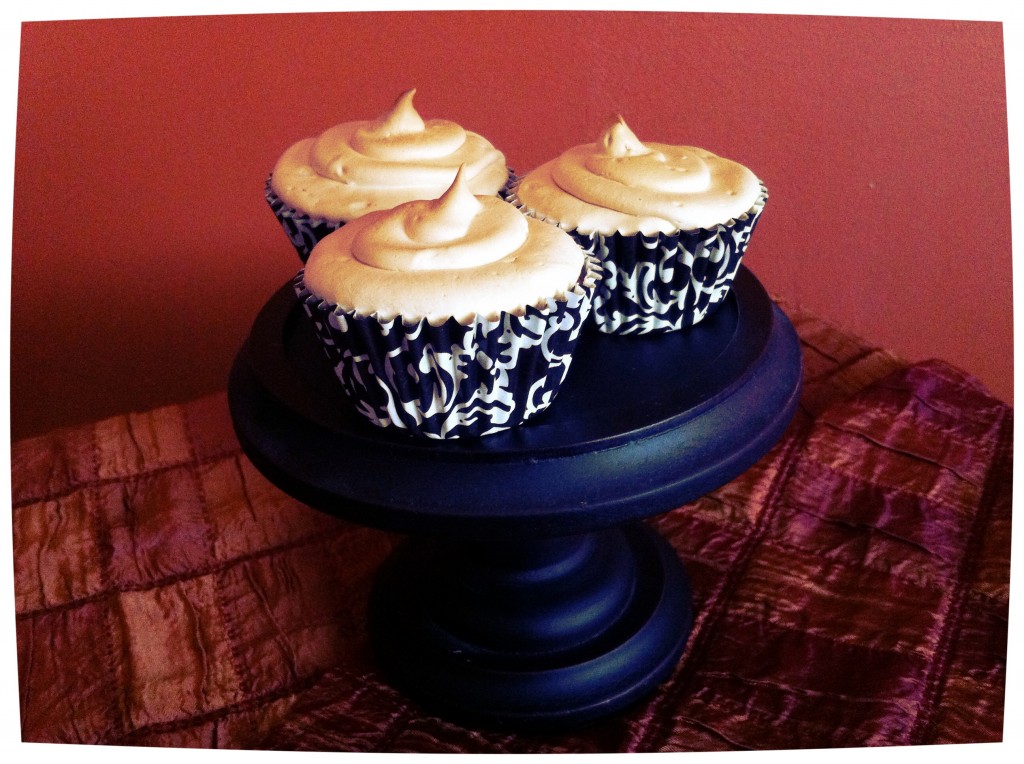 If there was only one thing I would do different with this scrumptious cupcake, it would be to fill it with a dairy free chocolate ganache. A little extra chocolate can't be bad; it can only make this recipe even better! 
Pure deliciousness!
Here are the recipes…enjoy!
S'more please! | Gluten Free S'mores Cupcakes
Ingredients
For Graham Crumb Crust

1 1/2 cups crushed graham crackers
2 tbsp melted butter or margarine

For Cupcake

1 3/4cup white rice flour
1/4 cup potato starch
1/4 cup tapioca starch
2 tbsp cocoa
1tbsp baking powder
1 tsp xanthan gum
1/4 tsp salt
1 1/2cup granulated sugar
1/2 cup brown sugar
1 cup butter or margarine (softened, room temperature)
6 eggs, room temperature
2/3 cup milk, or milk substitute
1/4 cup chocolate chips (I used Enjoy Life Foods chocolate mini chips)
1 tsp butter or margarine (to melt with chocolate chips)

For Marshmallow Frosting

5 egg whites
1 1/4 cup brown sugar
1 tsp LorAnn marshmallow flavour
Method
Preheat oven to 350°F and prepare pans with liners; set aside.
Mix together in bowl all dry ingredients; set aside.
Crush graham style crackers in mini chopper or food processor.
Melt 2 tbsp of butter in microwaveable bowl, and add to graham crumbs until well combined and crumbs stick together.
Fill liners with about 1 tbsp of graham crumbs and press firmly.
Bake in oven for 10 minutes to set crumb crust; then remove and cool.
Melt chocolate chips in microwaveable bowl with 1 tsp of butter or margarine; stir until smooth and set aside.
Beat sugars and butter until light and fluffy.
Add eggs 2 at a time, beating well after each addition.
Add in melted chocolate and mix until well combined.
Add flour mixture and milk to bowl in batches and mix until smooth. After final flour batch has been added, mix until light and fluffy.
Pour mixture into liners containing baked graham crumb crust, making sure to only fill liners 1/2 - 2/3 full.
Bake until toothpick inserted comes out clean – about 22 minutes.
Let cool in pan for 3-5 minutes before transferring to cool completely on wire rack. Once completely cooled, you can frost.

For Marshmallow Frosting

Before starting, make sure mixing bowl is completely grease free.
Add egg whites and brown sugar and simmer over a pot of water (not boiling), whisking constantly but gently, until temperature reaches 140-160°F, or if you don't have a candy thermometer, until the sugar has completely dissolved and the egg whites are hot (about 5 minutes if you used room temperature egg whites or 8+ minutes if they were cold).
With whisk attachment of mixer, begin to whip until the meringue begins to thicken and cool.
Add marshmallow flavour and continue beating until stiff peaks form.
Fill piping bag and decorate your cupcakes as desired.
http://www.pastelbakery.ca/gluten-free-smores-cupcakes/
Copyright 2014 Pastel Bakery: Gluten Free Desserts . All Rights Reserved | www.pastelbakery.ca
Thanks for stopping by! Comments are always welcomed and encouraged. 

Eva