I'm back today with the recipe I promised you in my last post. If you're looking for a soft, quick and easy to make cookie, look no further than these Gluten Free Vegan Almond Cookies with Salted Caramel Filling, of course!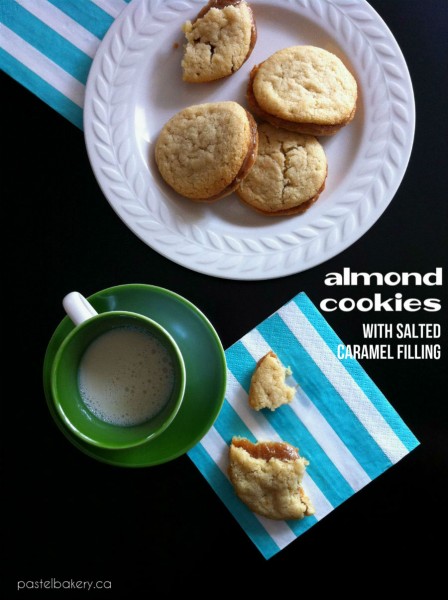 I originally came up with this recipe while working on another one. So really, it was a mistake…a very delicious mistake that is.  And did I mention how super easy these cookies are to make?? Have a late night hankerin' for cookies? No problem! With only 3 ingredients needed, these Gluten Free Vegan Almond Cookies come together in a snap. I love recipes you can whip up super quickly! There's no need for store bought cookies, when you can make your own with limited ingredients and know exactly what goes in them. Beauty.  Now, if you don't feel like making the Salted Caramel Sauce to fill these little guys (or if you're like me, and gobbled it up by the spoonful before it even had a chance), these soft chewy cookies are still delish on their own.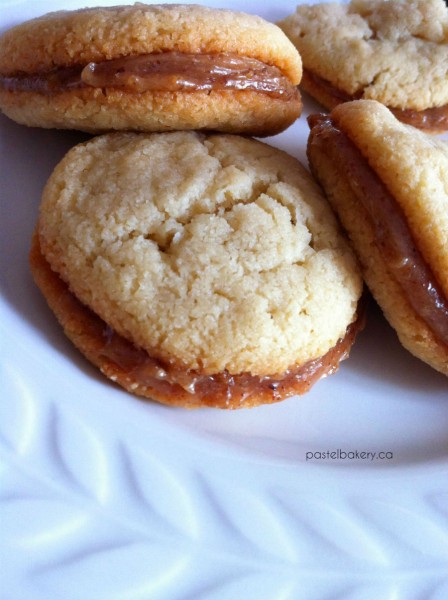 These go perfect with your favourite cup of coffee, tea…or even milk. Which for me lately, has been the BFF to my cookies, given I've gone coffee free, since I am expecting. First time mom = freak out mode ALL THE TIME! The BIG day is approaching…and fast (just about 3 months to go).  If I'm this crazy and paranoid now, I can only image what I'm in for once little one arrives.  It's ain't gonna be pretty.
I debated whether or not to share the exciting news here. Wondered if anyone would actually be interested, or, if it's just about the gluten free goods. But, I figured it'll be pretty busy for me come the fall, which means my blog may be abandoned for a while. And maybe you, the reader, will wonder where I am? Would you? Anyway…so excuse me if I disappear for a while in the next coming months. Not to worry though, I will have a few more recipes to share with you before I go missing, so please be sure to come back and visit. Don't leave me hanging.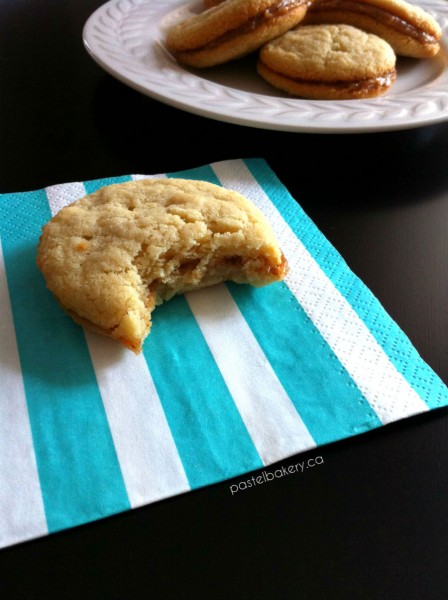 Pure deliciousness!
Enjoy,

Gluten Free Vegan Almond Cookies with Salted Caramel Filling
These soft almond cookies are quick & easy to make & filled with a creamy salted caramel sauce
Ingredients
For Cookies:

1 cup almond flour
3 tbsp pure maple syrup (additional 1 tbsp only if dough doesn't stick together)
2 tbsp coconut oil, softened

For Filling:

Refer to my last post for Salted Caramel Sauce recipe
Method
Preheat oven to 350°F. Line cookie sheets with parchment paper and set aside.
In a medium bowl, mix all ingredients until fully combined. Roll out 10 balls (about 1/2 tbsp of dough for each) and place on prepared sheets. Note, dough will be sticky.
Bake for 10-12 min or until lightly golden around edges.
Let cool on sheet for 5 min, before carefully transferring to wire racks to cool completely. Fill with Salted Caramel Sauce for a delicious sandwich cookie.
http://www.pastelbakery.ca/gluten-free-vegan-almond-cookies-with-salted-caramel-filling/
Copyright 2014 Pastel Bakery: Gluten Free Desserts . All Rights Reserved | www.pastelbakery.ca