I know it's been a while, but what can I say, I haven't felt too inspired lately. That's why I'm back with an easy recipe…Gluten Free Dairy Free Fruit Tartlets. This recipe may be basic looking, but it's a perfect pick me up treat.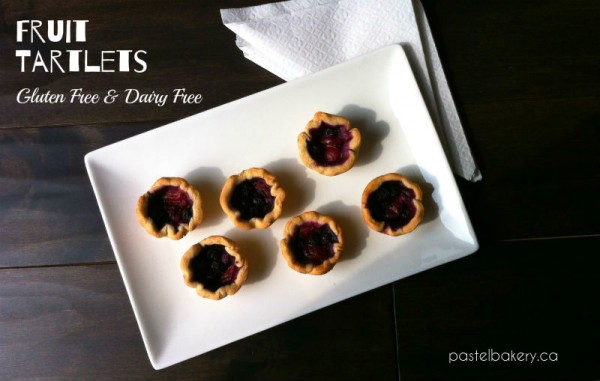 I think it's this cold wintery weather we keep having that's put me in a permanent state of hibernation. If you're fortunate enough to already be experiencing spring like weather, count yourself lucky. It's still bitterly cold in these parts with bursts of snow here and there. This kooky weather has frozen the creative part of my brain, resulting in just puddles of drool as I think of something new and delicious to bake. So too be honest, this recipe is only partly new. You may remember I used the same shell in the Butter Tarts recipe I previously posted (which on a side note, are freakin' awesome!). Given I'm going crazy for spring to arrive; I filled these with some frozen fruit I had on hand which was wild blueberries and sour cherries. The beauty of this recipe is if you have different frozen fruit on hand, you can use it instead. The possibilities are endless. Go nuts. We're not picky over here.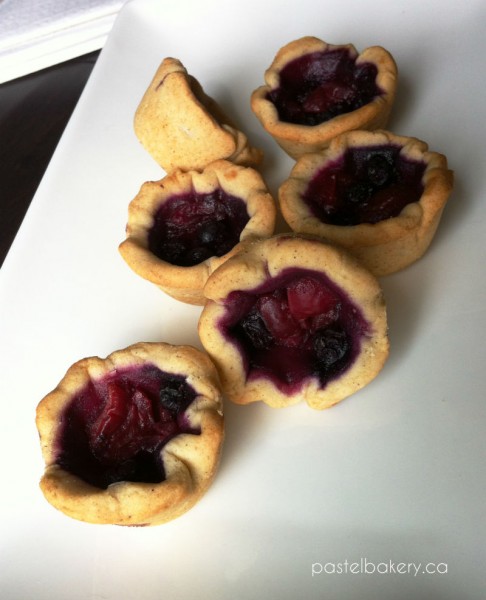 When you take a bit of these Gluten Free Dairy Free Fruit Tartlets, you're hit with a burst of fruit – just the right dose to get out of that wintery coma. And sweetened slightly with maple syrup – is there any better sign of spring?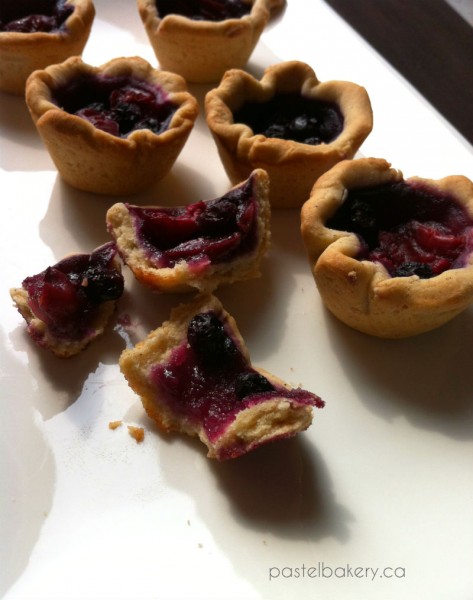 I may have to put up with this weather for a while longer, so I'll just stay in, bake these tarts and think of warmer days as I gobble them up.
Pure deliciousness!
Enjoy,

Gluten Free Dairy Free Fruit Tartlets
These easy fruit tartlets are made using frozen fruit and sweetened with maple syrup.
Ingredients
For Tarts:

3/4 cup brown rice flour
1/2 cup + 2 1/2 tbsp sorghum flour
1/2 cup + 2 tbsp tapioca starch
1/2 cup icing sugar
1/4 cup light olive oil
1 egg, lightly beaten
1 tsp pure vanilla extract
1 tbsp cold water (plus more if needed)

For Filling:

1 cup frozen wild blueberries
1 cup frozen sour cherries, chopped
1/4 cup pure maple syrup
Method
Lightly spray mini tart trays and set aside.
In bowl of mixer, combine flours, starch and icing sugar.
Add oil, egg and vanilla and mix.
Add 1 tbsp of cold water and mix until dough sticks together. Add more water, 1 tbsp at a time, only if needed.
Remove dough from bowl, flatten into a disk, and wrap in plastic wrap. Place in refrigerator for at least 30 minutes to chill slightly (allowing for easier handling).
Meanwhile, prepare the filling by mixing together, blueberries, cherries and maple syrup in a medium bowl. Set aside.
Preheat oven to 400°F.
Remove dough from refrigerator. Place between two sheets of parchment paper and roll out to approximately 1/4 thickness. Cut dough using a 2" round cutter and line each tart cup with dough. I used an espresso cup to cut the dough since I don't have a round cutter that small.
Place about 2 tsp of filling into each tart shell, ensuring not to fill over the shell edge.
Place in oven and bake for 5 minutes, then lower heat to 375°F and continue baking for another 5-8 minutes, or until edges are golden.
Remove from oven and cool in trays for at least 15 minutes before carefully removing and letting cool on wire racks completely.
Store cooled tarts in refrigerator for up to 5 days or in freezer to keep longer.
http://www.pastelbakery.ca/gluten-free-dairy-free-fruit-tartlets/
Copyright 2014 Pastel Bakery: Gluten Free Desserts . All Rights Reserved | www.pastelbakery.ca