If you were looking to try a new cookie recipe this holiday season, may I suggest these Gluten Free Dairy Free Cinnamon Orange Cookies. If the warm scents of orange and spice filling your kitchen while they bake isn't enticing enough…well then…I don't know what is.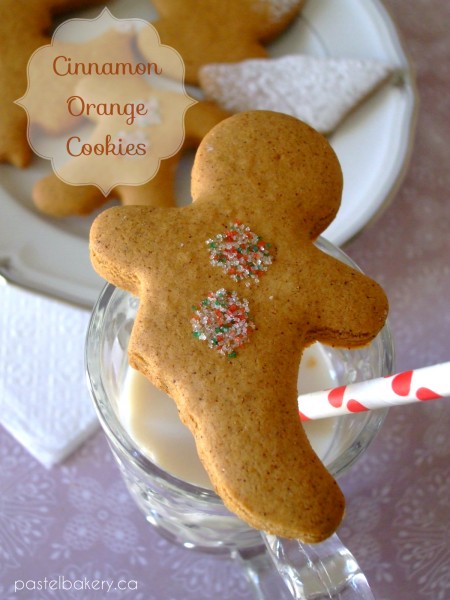 Last year around late November, when the shops were in holiday overdrive, I picked up a soap/lotion combo which was orange cinnamon scented. Umm, yeah…it smelled awesome! The soap is long gone, but the lotion still sits on my bathroom counter. Staring at it the other day, it got me thinking what a fantastic cookie flavour that would be. Alright, I know it sounds strange that lotion made me think of cookies, however it wasn't the lotion itself, rather just the scent…does this make it any better? If you got a whiff of this lotion, you'd understand.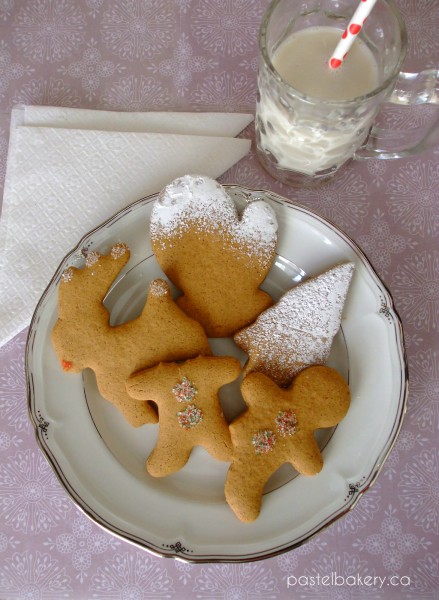 So, I took a basic gingerbread cookie recipe and made the necessary changes, such as taking out all the ginger, amping up the cinnamon and adding this Orange Bakery Emulsion. Yes I realize it's no longer a gingerbread cookie, but that's not what we're here for, right? It's all about the cinnamon, and the orange.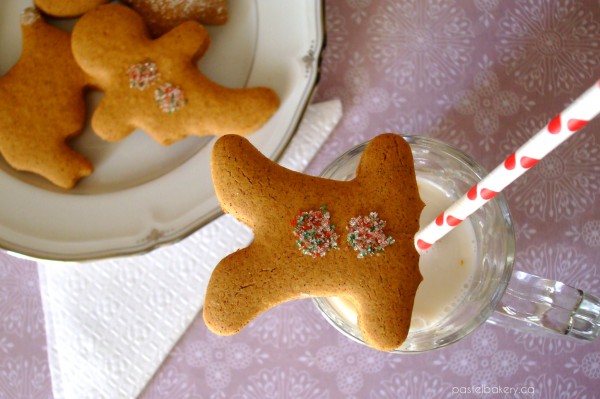 If you prefer, you can definitely just use grated orange rind instead of the emulsion, but if you're like me, oranges are never in the house. In the past, I have purchased oranges just to use the grated rind in recipes. Then what happens to the orange itself? It just aimlessly rolls around the fridge for a really, really long time, until it eventually gets eaten (just to put it out of its misery really). Personally, I'm not a big fan. Clementines yes, but oranges? Big N-O. But I do enjoy the flavour of orange…are we confused yet? Seeing how my preference of fruit isn't important here, let's move on shall we?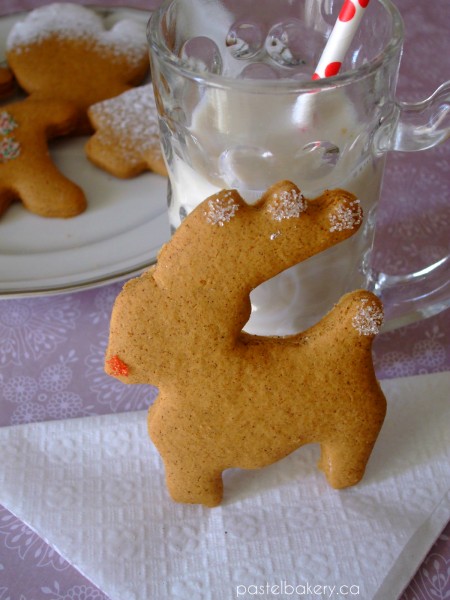 Again, if you do have oranges on hand and would prefer to use the grated rind instead of the emulsion, you definitely can. I just can't say how 'orangey' the cookie will taste. The beauty of the emulsion is the flavour does not fade when the cookies are baked. To 'glue' the coloured sugar on the (completely cooled) cookies, I 'painted' the spot I wanted to decorate with pure vanilla extract, and then sprinkled on the sugar. Or can sprinkle with icing sugar as I did with some. Voila! Simple decorated Christmas cookies. No messing around with royal icing over here, means more free time to clean up….or better yet to gobble up these goodies!
Pure deliciousness! A safe and happy holiday season to all!
Eva
Gluten Free Dairy Free Cinnamon Orange Cookies
These cut-out cookies have the perfect combination of cinnamon and orange. Great for the holidays!
Ingredients
4 3/4 cups all purpose gluten free flour (or more if dough is too sticky when mixed. See below)
2 1/2 tbsp ground cinnamon
1 tsp baking powder
3/4 cup dairy free spread (such as Earth Balance Buttery Spread)
1 cup brown sugar
1 egg
1/2 cup fancy molasses
3 tsp LorAnn Oils Orange Bakery Emulsion or 1 tbsp finely grated orange rind
Method
Combine dry ingredients in large bowl and set aside.
In bowl of mixer, cream dairy free spread and sugar for about 2 min.
Beat in egg, molasses and orange emulsion (or rind).
Stir in dry ingredients and mix until flour is incorporated and dough pulls away from sides of bowl. If dough is still too sticky, add in more flour 1 tbsp at a time and mix until incorporated.
Divide dough in half, wrap in plastic wrap and flatten into a disk. Refrigerate for at least 30 minutes.
Preheat oven to 350°F. Spray cookie sheets with non-stick spray and set aside.
Between 2 pieces of parchment paper, roll out 1 disc of dough to about 1/8" thick. Cut using desired shapes.
Place on prepared sheets and bake for 8 minutes (or until edges are slightly browned). Extra large shapes may require more time and mini shapes may require less. The shapes I used were about 2 1/2" high. If baking 2 pans at once, make sure to rotate halfway through baking time.
Remove from oven and let cool on sheets for 2 minutes before carefully transferring to wire racks to cool completely.
Repeat with remaining dough.
Once cookies are completely cooled, decorate as desired or leave plain. Enjoy!
Notes
You can make the dough 1 day before baking. Just wrap well in plastic wrap and keep in the refrigerator until ready to use. Some non-stick sprays are NOT gluten free. Always make sure to read the label.
http://www.pastelbakery.ca/gluten-free-dairy-free-cinnamon-orange-cookies/
Copyright 2014 Pastel Bakery: Gluten Free Desserts . All Rights Reserved | www.pastelbakery.ca