Get your Gluten Free Dairy Free Chocolate Chunk Banana Bread here! It may seem pathetic, but yes, I am excited about something as simple as banana bread. You see, for the longest time I tried concocting many banana bread recipes, but none were the one. While they were good, they didn't offer that moist crumbly texture I was looking for. But with this recipe, well…WE HAVE A WINNER! It's super moist, super scrumptious and the additional chocolate chunks made it even more irresistible in my book.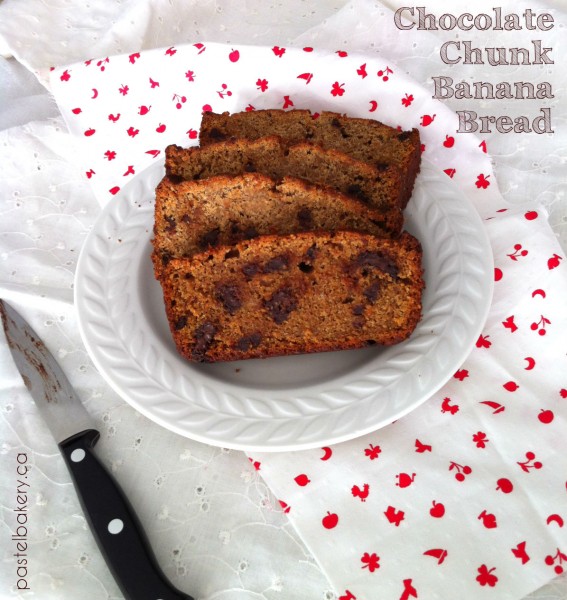 I always like to enjoy a baked good with my breakfast, but I keep it on the low glycemic/high fibre side, like with these muffins and these cookies. This Gluten Free Dairy Free Chocolate Chunk Banana Bread is a perfect addition to my breakfast treats. Now, you could opt to exclude the chocolate chunks to keep it on the healthier side, but given it was sweetened only with coconut sugar and maple syrup (and not in large quantities might I add), I went for the chocolate. Figured it would add a little oomph to its sweet-o-meter. Go for it!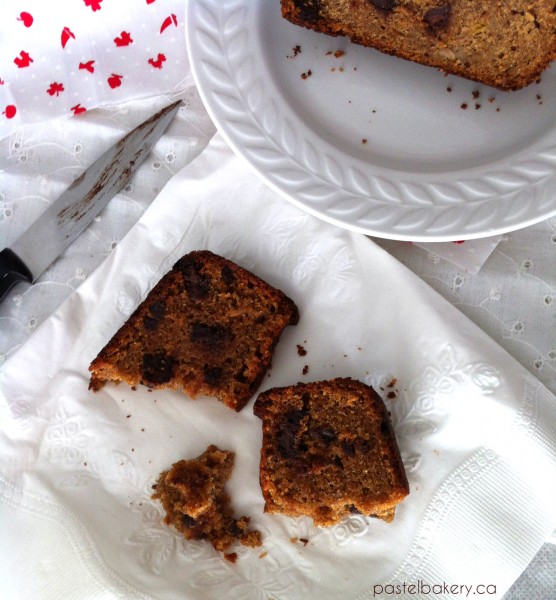 This is the second time I tried baking with coconut sugar, although my first attempt didn't turn out quite as well as I had hoped (needless to say, I won't be sharing that recipe with you). Apparently it can be swapped out 1:1 with granulated sugar, but seems that wasn't the case for me. I suppose I'm still a coconut sugar newbie and have lots to learn.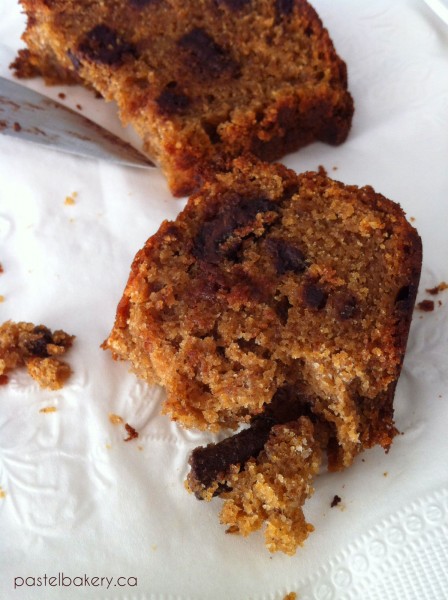 Even though coconut sugar is new territory for me, I wanted to give it a try as it is a healthier option. Plus, Peggy K sold me on it once she mentioned it tasted like burnt caramel. And you know what, it totally does! I have to admit, I slowly started consuming (small) spoonfuls of this stuff rather than using it to bake. There I was standing in my kitchen. Coconut sugar bag in one hand, spoon in the other, scooping out an 'acceptable amount' and devouring it. I looked like a Nutella addict. Weird. I know. Lucky for me though, I now have this banana bread recipe to save me from my coconut sugar addiction.
Pure deliciousness!
Enjoy,

Note: In the recipe below, I mention the coconut oil should be softened. Check out the recipe in my past post for a tip on how to easily soften the coconut oil.
Gluten Free Dairy Free Chocolate Chunk Banana Bread
This banana bread is super moist and super easy to make. Using nutritious flours and swapping out regular sugar for coconut sugar and maple syrup, make it a great breakfast option or snack.
Ingredients
1/2 cup brown rice flour
1/2 cup sorghum flour
1/4 cup almond flour
1/4 cup tapioca starch
1 tsp baking powder
1 tsp ground cinnamon
1/8 tsp ground cardamom (optional)
1/2 cup coconut oil, softened
2 overripe bananas, peeled and cut up (see note below)
1 tbsp vanilla bean paste
1/2 cup coconut sugar
2 eggs, lightly beaten
1/8 cup pure maple syrup
1/2 cup chocolate chunks or chocolate chips (optional)
Method
Preheat oven to 350°F. Spray a 9 x 5 loaf pan and set aside.
In medium bowl, combine flours, starch, baking powder, cinnamon and cardamom (if using). Set aside.
In large bowl, soften coconut oil by stirring around for about a minute.
Add in bananas and mash until combined.
Stir in vanilla bean paste and coconut sugar. Mix well.
Add in eggs and mix well.
Fold in dry ingredients and mix until just combined.
Mix in maple syrup and chocolate chunks/chips (if using).
Pour batter into loaf pan and bake in oven for 60 minutes or until tester inserted into center comes out with a few crumbs clinging to it.
Let cool in pan on wire rack for about 20-30 minutes before inverting onto wire rack to cool completely.
Store in airtight container in cool location or refrigerator. Can be warmed up slightly before enjoying.
Notes
This recipe also turns out great using 3 bananas, should you have another overripe banana on hand :)
http://www.pastelbakery.ca/gluten-free-dairy-free-chocolate-chunk-banana-bread/
Copyright 2014 Pastel Bakery: Gluten Free Desserts . All Rights Reserved | www.pastelbakery.ca