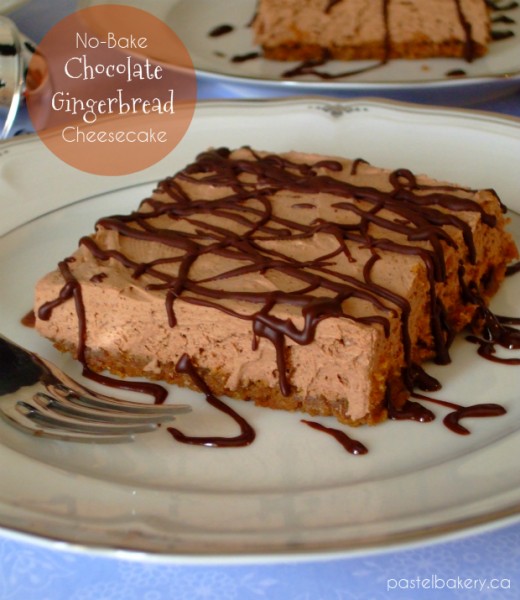 I can't remember the last time I had a slice of cheesecake.  What I do recall is how much I loved this dessert.  The rich, creamy, texture…mmm, just melt in your mouth.  But alas, this love was forbidden.  I thought I would never savour a cheesecake again (cue the Lionel Richie 'Hello' song)…until I found this dairy free option .  If you've been missing cheesecake like me, or you're just nuts for cheesecake, I promise you, this Gluten Free Dairy Free No-Bake Chocolate Gingerbread Cheesecake will not disappoint!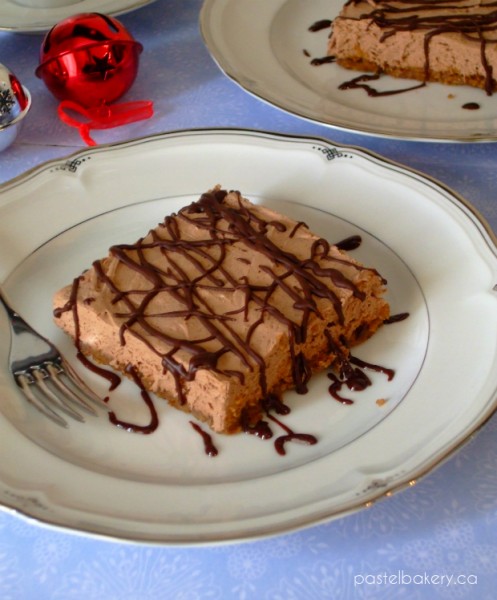 I've wanted to try Daiya's new cream cheese style spread for a while. Lucky for me, I found it on sale at Nature's Emporium up in Newmarket (on a side note, if you have never visited this store, you absolutely must!). Given, 'tis the season to be jolly, I thought a chocolate gingerbread cheesecake would be best. So I picked up a pack of the spread, along with some ginger snaps (for the crust) to make this dairy free cheesecake.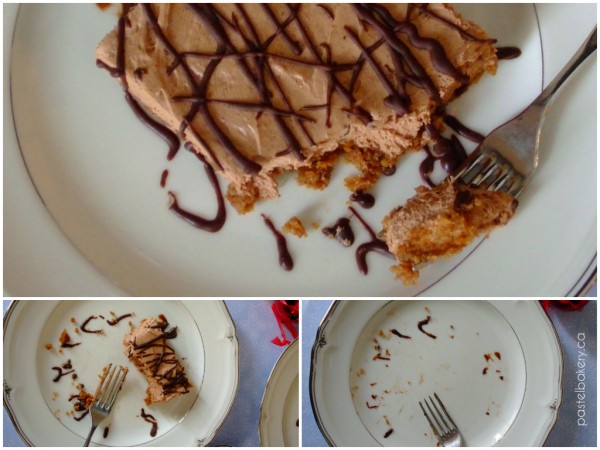 With a little bit of melted Enjoy Life's Chocolate Mini Chips, a splash of Nutri-Whip, a dusting of sugar and a touch of spices, whipped together with the Daiya Cream Cheese Style Spread, this cheesecake is pure melt in your mouth bliss. Pure. Bliss.
And how awesome is it, that not only is it gluten free but dairy free too?! Woot! Woot! The Daiya cream cheese style spread definitely whipped up smooth and creamy just like regular cream cheese. It makes me so happy to know that I can once again enjoy a large slice (or two!) of a fantastic cheesecake without any repercussions.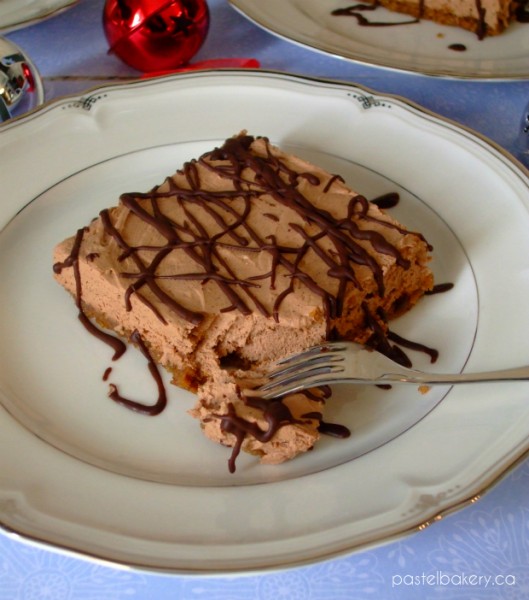 I'm already planning on making another one for our Christmas gathering to share with Miss Glutrition.
My mouth is salivating just thinking about enjoying another slice of this cheesecake in a matter of weeks!
What could be better during such a hectic holiday season than an easy to make, no-bake cheesecake that you can whip up in no time? Trust me…go make one of these…NOW!
Pure deliciousness! Enjoy and Happy Holidays to all!
Eva
Note: compensation was not received for this post. Thoughts and opinions are my own.
Gluten Free Dairy Free No-Bake Chocolate Gingerbread Cheesecake
This easy to make no-bake 'cheesecake' is so creamy you won't believe it's dairy free!
Ingredients
1 1/2 cups crushed gluten free ginger snaps (such as Mi-del)
5 tbsp dairy free buttery spread (such as Earth Balance)
1/2 cup dairy free chocolate chips (such as Enjoy Life Mini Chips)
1 container (227g) Daiya cream cheese style spread, slightly room temperature (or other dairy free cream cheese style spread)
1/4 cup granulated sugar
2 tsp ground cinnamon
1/2 tsp ground ginger
1/4 tsp ground nutmeg
1/2 cup Nutri-Whip dessert topping (or other dessert topping)

For chocolate drizzle (optional):

1/4 cup dairy free chocolate chips (such as Enjoy Life)
1 tbsp dairy free buttery spread (such as Earth Balance)
1/4 tsp ground cinnamon
Method
Line an 8 x 11 pan with foil leaving extra foil over pan edges for easy removal of 'cheesecake'; set aside. If you do not have this size pan, you could use 2 square pans and divide the recipe between each. If you choose to use a larger pan such as a 9 x 13, just bear in mind you may run short on crumbs.
Crush ginger snaps using a mini chopper. If you do not have, crumble by hand until you reach a fine texture like graham crumbs. Place in bowl and set aside.
Melt 4 tbsp of dairy free spread in microwaveable bowl and pour over crushed ginger snaps (the remaining 1 tbsp of dairy free spread will be used below). Mix well using a fork ensuring crumbs are evenly coated and stick together when pressed.
Press crumbs into prepared pan. Place in fridge while you prepare the 'cheesecake'.
In bowl of mixer, whip up Nutri-whip until soft peaks form.
Meanwhile, in microwaveable bowl, melt the chocolate chips with the remaining 1 tbsp of dairy free spread. Set aside.
In medium bowl, combine dairy free cream cheese style spread and sugar and beat well. Add in melted chocolate and spices and stir until combined.
Fold in 'cheesecake' mixture to Nutir-whip. Pour over prepared crust, cover and refrigerate for at least 4 hours.
When ready to serve, lift the 'cheesecake' out of the pan (using the foil edges), and cut. Drizzle with chocolate if desired (recipe below).

For Chocolate Drizzle:

In microwaveable bowl, melt chocolate chips with dairy free spread.
Stir in cinnamon.
Drizzle over cake using a fork or spoon.
Notes
This cheesecake tastes even better the next day so it can definitely be made 1 day before serving. Store in the refrigerator until ready to serve.
http://www.pastelbakery.ca/gluten-free-dairy-free-no-bake-chocolate-gingerbread-cheesecake/
Copyright 2014 Pastel Bakery: Gluten Free Desserts . All Rights Reserved | www.pastelbakery.ca