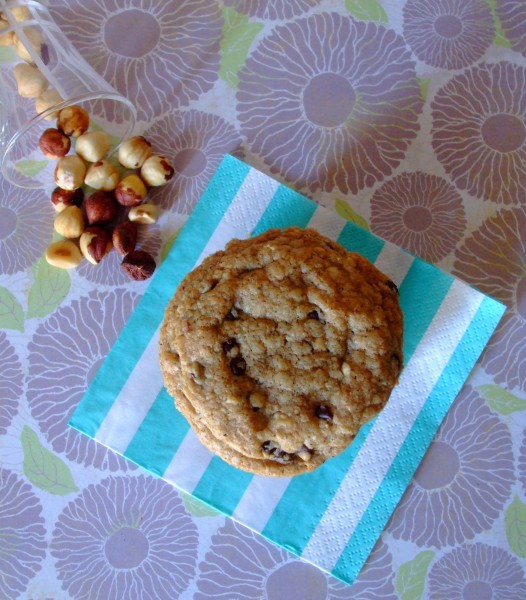 I've been craving a chocolate chip cookie lately, but not just any chocolate chip cookie; I wanted a kick-ass one.  These Gluten Free Browned Butter Chocolate Chip Hazelnut Cookies definitely hit the spot!  Let's put it this way…they tasted like Nutella – yeah, 'nuf said.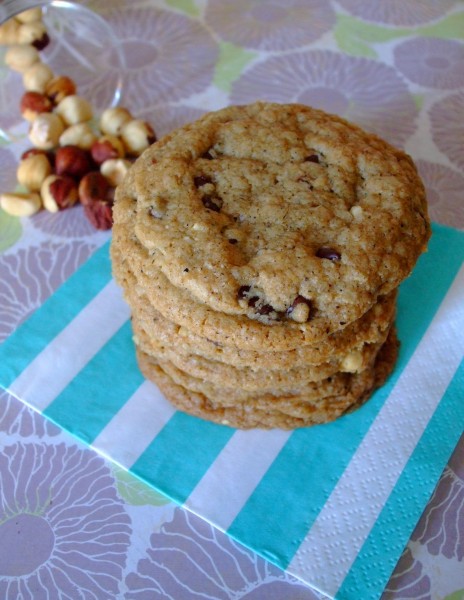 I couldn't believe with all the baking I've done through the years, I didn't have a classic chocolate chip cookie recipe.  Crazy right?  I mean chocolate chip cookies are pretty basic, but for whatever reason, I didn't have a go-to recipe.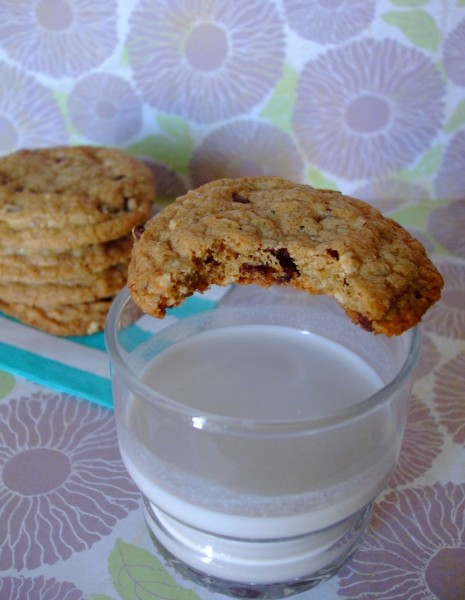 For inspiration this time around I turned to Anna Olson, specifically her latest book Back to Baking.  Honestly, this book is dangerous.  I have lots of baking books I enjoy and love, but I must honestly say this book makes me want to bake every single recipe.  Anna's recipes are simple, and that's very good when you just want to devour some cookies, bars, etc…like NOW!  It is definitely a collection of timeless recipes (as the title of the book states).  Yes, the majority of the book is non-gluten free recipes, but like I said, they are so simple you could experiment with converting them.  However, if you don't like converting recipes, there is a whole chapter dedicated to gluten free (along with chapters dedicated to egg free, dairy free and low sugar/fat recipes).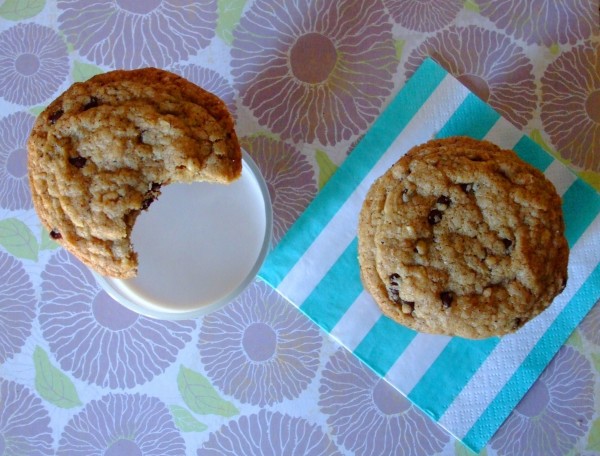 As I mentioned though, these Gluten Free Chocolate Chip Hazelnut Cookies taste like Nutella heaven, thanks to the chopped hazelnuts I added to the recipe. As well, the browned butter provided a nice deep nutty flavour to the cookie. This was my first time browning butter and it's true when they say you'll know when it's done. The house smelled like toffee nut – like a Skor chocolate bar to be exact.
I probably don't need to go on about how awesome these cookies are; as I'm sure I got your attention once I mentioned Nutella. I'm gonna go sit down with a jar of these cookies…sans spoon.

Pure deliciousness!
Enjoy and thanks for stopping by!
Eva
Gluten Free Browned Butter Chocolate Chip Hazelnut Cookies
A scrumptious gluten free chocolate chip cookie resembling a chocolate hazelnut spread!
Ingredients
1/2 cup butter
1/2 cup brown sugar
1/4 cup white sugar
1 egg, room temperature
1 tsp vanilla extract
1/2 cup brown rice flour
1/4 cup sorghum flour
1/4 cup buckwheat flour
1/4 cup tapioca starch
2 tbsp potato starch
1/2 tsp baking soda
1/4 tsp salt
1/2 cup chopped hazelnuts
1/2 cup chocolate chips
Method
In a saucepan, melt the butter over med-low heat until it is browned. You'll know it's ready when it becomes caramel in colour and your house smells like toffee nut. Remove from heat, and let cool.
Preheat oven to 350°F. Spray cookie sheets or line with parchment paper and set aside.
Combine dry ingredients in a medium bowl and set aside.
Add cooled browned butter and sugar in bowl of mixer and mix until combined.
Add egg and vanilla, beat thoroughly. (about 2 min).
Stir in dry ingredients and mix until just combined.
Fold in hazelnuts and chocolate chips.
Drop dough by tablespoonfuls onto cookie sheets, leaving about 1 1/2" between each.
Place sheets in preheated oven and bake for 10 minutes.
Remove and let cool on sheets for at least 5 minutes before transferring to wire racks to cool completely.
http://www.pastelbakery.ca/gluten-free-browned-butter-chocolate-chip-hazelnut-cookies/
Copyright 2014 Pastel Bakery: Gluten Free Desserts . All Rights Reserved | www.pastelbakery.ca