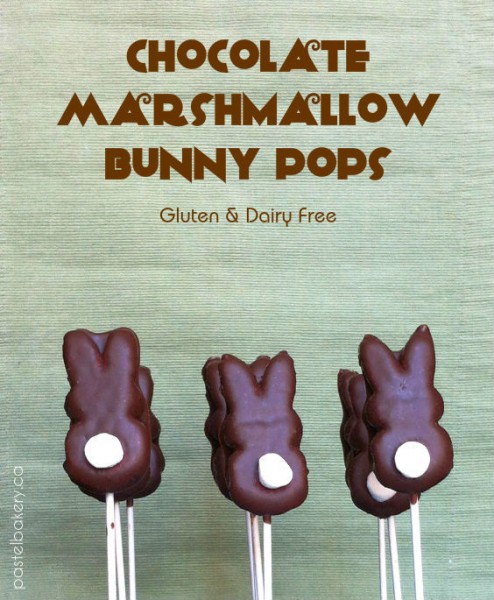 I'm only briefly hopping in (like a stealth Easter Bunny!), to share with you this perfect Easter treat.  It's super easy and quick to make.  Kids of all ages will love these adorable little guys!  Not to mention, these Chocolate Marshmallow Bunny Pops (Gluten and Dairy Free of course!), are yummy and all you need are a few ingredients.  That's the best kind of recipe when it's too hectic to prepare an involved dessert or treat for Easter.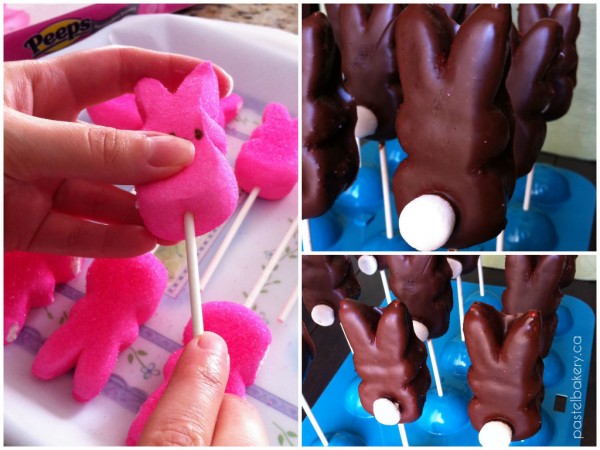 Pure deliciousness!
Enjoy,

Chocolate Marshmallow Bunny Pops Gluten Free Dairy Free
Kids can help prepare these quick and easy to make treats. Perfect for celebrating Easter or spring!
Ingredients
1/4 cup + 1 tbsp mini chocolate chips (I used Enjoy Life Mini Chips)
1 tbsp coconut oil
1 pack of Peeps Bunnies (12 count)
6 mini marshmallows, cut in half
12 lollipop sticks (I used 4" lollipop sticks)
Method
Line a tray or plate with wax paper.
Insert lollipop sticks into bottom of Peep making sure not to poke through the top of the bunny's ears.
Place face side down on tray. The backside will be the side you affix the mini marshmallow to later, as a bunny's bottom always hangs lower than it's front :)
In a medium pot over low heat, combine chocolate chips and coconut oil.
Stir until just melted, then remove immediately from heat and stir to ensure no clumps are left.
Now you can either pour the chocolate into a bowl, or if you want to make less of a mess (like me), while holding the pot, tip it towards one side and scrape the chocolate down towards that side.
Using your other hand, dip the pop into the chocolate, ensuring to fully coat it. Let any excess chocolate drip off before placing it back on the tray (again, making sure the side with the lower bottom is facing up).
Place a mini marshmallow half towards the bottom, where the bunny's tail should be.
Repeat with remaining pops.
Refrigerate for at least 1 hour, before gently peeling pops away from wax paper.
Store in a container in refrigerator until ready to eat. If layering pops in a container, make sure to place a piece of wax paper between each layer so they don't stick to each other.
http://www.pastelbakery.ca/chocolate-marshmallow-bunny-pops-gluten-free-dairy-free/
Copyright 2014 Pastel Bakery: Gluten Free Desserts . All Rights Reserved | www.pastelbakery.ca