Alright, I'm back again. As mentioned in a recent post, I said I wouldn't be baking again until after baby arrived, but yet again, I lied to myself. What's a girl to do when she has overripe bananas but…Bake! Bake! Bake! And this recipe for Gluten Free Vegan Banana Walnut Muffins was the easiest way to use up those spotty bananas.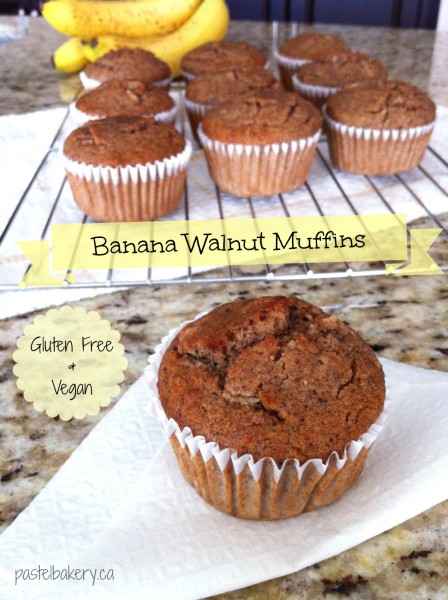 I totally could have made my favourite banana bread, but wanted to try something slightly different this time around. With swapping the white sugar for pure maple syrup, plus using brown rice, sorghum and buckwheat flours instead of white rice flour, these muffins make a great addition to your breakfast or as a late afternoon snack. Also, no eggs were hurt in the making of these muffins. This is the first time I've made muffins using no eggs and I was pleasantly surprised. The muffins turned out fluffy and moist. So if you forgot to buy eggs, you can still make these little treats.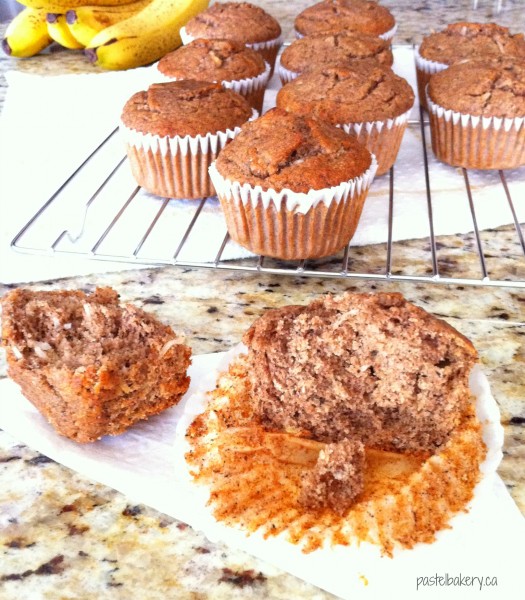 Really these muffins should be called Banana Walnut 'plus anything else you want to throw in to the mix' Muffins. With the first batch, I threw in some raisins. With the second batch (featured in these pics), I swapped the raisins for shredded coconut. Both tasted great, but surprisingly, I actually preferred the raisins. Probably because the muffins were bursting with tiny pockets of juicy raisins! Now, with the first batch, I also only used 1 banana, so the recipe will work with either 1 or 2 (which is what I used for the second batch). Obviously though, using 2 bananas, will result in a more moist and fluffy muffin. Still; good to know that if you find yourself with 1 lonely overripe banana, this recipe can still be pulled off.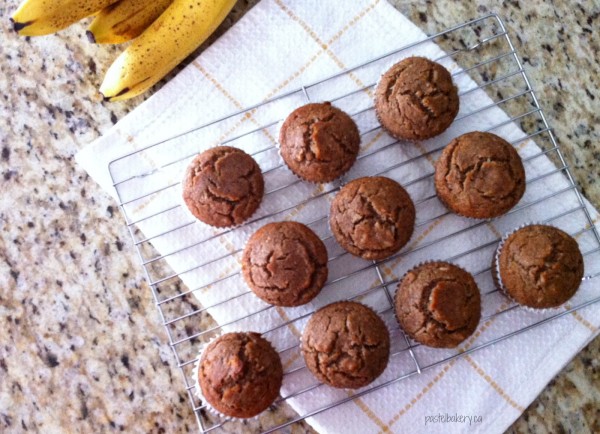 Pure deliciousness!
Enjoy,

Gluten Free Vegan Banana Walnut Muffins
These moist & fluffy muffins are easy to make & are perfect for breakfast or as a late afternoon snack.
Ingredients
1/2 cup brown rice flour
1/2 cup buckwheat flour
1/2 cup sorghum flour
2 tbsp tapioca starch
1 tbsp baking powder
2 tsp ground cinnamon
1/2 tsp ground nutmeg
1 - 2 overripe banana(s)
1/2 cup pure maple syrup
1/4 cup light olive oil
1 tbsp vanilla bean paste
3/4 cup almond milk
1/2 cup chopped walnuts
1/2 cup raisins or shredded coconut
Method
Preheat oven to 400°F and line a muffin tray with liners; set aside.
In a medium bowl, combine dry ingredients; set aside.
In a large bowl, mash banana(s). Whisk in syrup, oil and vanilla.
Add 1/2 of dry mixture and stir until just combined.
Add 1/2 of milk and stir until just combined.
Repeat with remaining dry mixture and milk, then fold in walnuts and raisins/shredded coconut.
Fill liners about 2/3 full and bake for 22 minutes or until centers bounce back when gently touched.
Remove from oven and let cool for 5 minutes before transferring to a wire rack to cool completely.
http://www.pastelbakery.ca/gluten-free-vegan-banana-walnut-muffins/
Copyright 2014 Pastel Bakery: Gluten Free Desserts . All Rights Reserved | www.pastelbakery.ca