After you try this sauce, you will need to sit down. Trust me. This Gluten Free Dairy Free Salted Caramel Sauce is sooo creamy and sooo delish, your knees will buckle! Hard to believe it's made with just a few simple ingredients. Plus, no cooking – bonus!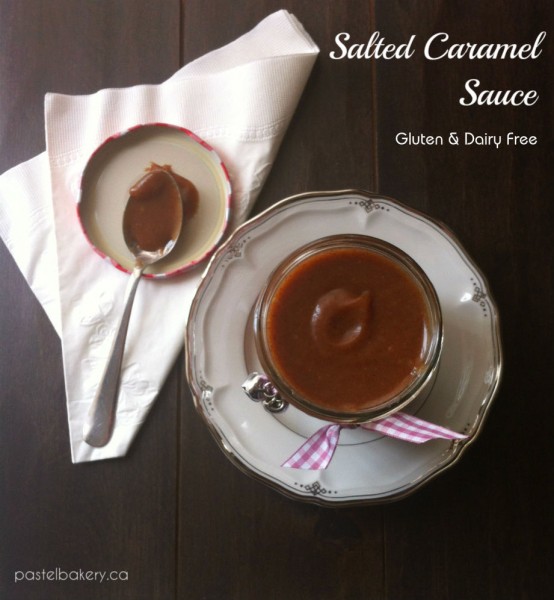 I've made this sauce several times already, and each time, I gobble it up in a matter of days. It's perfect for spreading on warm toast, using in another gluten and dairy free recipe of mine (coming soon!), or what I recently tried out…a grilled caramel banana sandwich! Oh…yeah *cue the drool*. Just like making a grilled cheese sandwich, you just spread a bit of dairy free buttery spread on the outside of your bread slices. On the inside, spread about half a tbsp of sauce on each side, and line one side with banana slices. Then close up the sandwich, place on a warm frying pan and grill each side for about 5 min. Oh. My. Gosh. This is the best, THE BEST sandwich to have! And hey, I like to think it's pretty healthy. Almond butter – good. Maple syrup – good. Coconut oil – good. Bananas – good. So it can count as lunch, right? Well, even if not in your book, it does for me.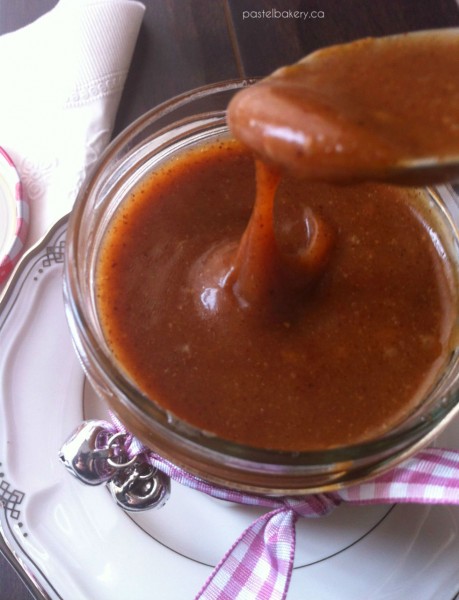 If you don't have a high powered blender, you may have to come up with plan B. You've been pre-warned. The first time I made this sauce, I tried making it in my crappy, crappy blender. This blender is so crappy it can't even make a proper smoothie. Always leaving clumps of bananas. What's up with that? Isn't a blender supposed to BLEND the ingredients into pure smoothness?? It seems my blender didn't get the memo on that one. So stupid me, thinking this time would be different, pulled out the crappy blender from my hard to reach cupboard, and went away on making the sauce. Well, let's just say, I don't think my blender is gonna come out to play anymore (is it supposed to smell like burning when you run it??). So, if you have a crappy blender like me, either invest in a really good one, or if you're not looking to spend too much at the moment, may I recommend a Magic Bullet. I picked mine up on sale after my blender fiasco, and it does the job on this sauce. Pretty sad that my crappy blender couldn't cut it. I'm guessing it would definitely be even easier using a high powered blender, but I wasn't willing to fork out the money. Plus now I can enjoy a decent smoothie. What have I been missing all these years!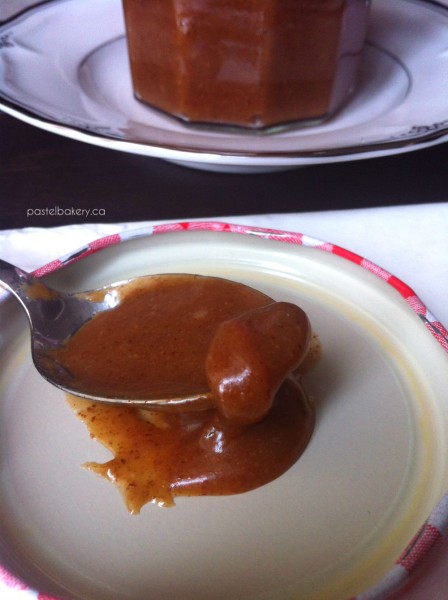 Stay tuned for my next post, featuring an easy gluten, dairy and egg free recipe, great for using up this Salted Caramel Sauce…if you can make it last that long of course.
Pure deliciousness!
Enjoy,

Gluten Free Dairy Free Salted Caramel Sauce
This sauce is so rich & creamy you'd never guess it was dairy free and so easy to make!
Ingredients
1/2 cup almond butter (just almonds)
2/3 cup maple syrup
1/3 cup coconut oil
1/3 tsp fine salt
Method
Place all ingredients into a high powered blender. A Magic Bullet will also work.
Blend on high for about 2 min, stopping to scrape down sides as needed, until it becomes a thick well blended sauce. If using a Magic Bullet, you will need to pulse on and off several times (stopping to scrape down sides), to ensure you don't burn the motor.
Place in a jar with tight fitting lid and store in refrigerator.
Notes
http://www.pastelbakery.ca/gluten-free-dairy-free-salted-caramel-sauce/
Copyright 2014 Pastel Bakery: Gluten Free Desserts . All Rights Reserved | www.pastelbakery.ca