Alright; I'll be the first to admit I've been a bit lazy. Well, maybe more than a bit. I really should have posted the recipe for these Gluten Free Dairy Free Mini Chocolate Chip Muffins sooner, but it seems even though my body was physically back from holiday, my brain was not. Shame on me for not posting sooner! Especially since it's been a year from when I started this blog (whaaa??). Months ago, I had planned on baking up something special to celebrate, but again, Eva no function brain well without, so maybe next post. I do have a test cake in the works which I hope to share with you soon, so what the hey, we'll call that my celebratory cake. Sound good?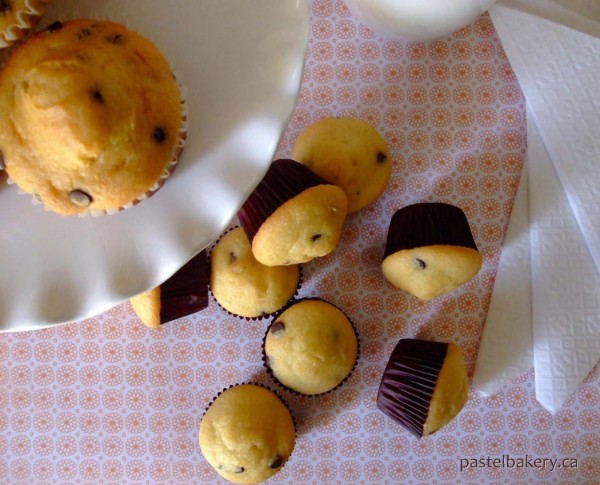 As you may recall from my previous post over a month ago (eek!), I had headed to sunny Spain for a much needed holiday. And if you follow me on Twitter you may recall some of these snapshots of the yummy foods I devoured:
and the views my eyes drunk in…my goodness the views!
Sadly I did not get to enjoy the gluten free bocata (aka mega sandwich) I was sooo looking forward to while touring Barcelona. Like many places, it was closed down for summer holidays – bummer. I was surprised to see just how many places were shut down, given many tourists visit this city during the month of August. Anyway, I did get to try out the fresh homemade gluten free pasta at Il Piccolo Focone (fantastic!), and a refreshing sorbet on a gluten free cone from Dino Gelato (delish!) While in Madrid, I enjoyed gluten free cupcakes and cookies during a visit to Celicioso Gluten Free Bakery (scrumptious!), and a tasty burger and fries at Tommy Mel's (mmm!). Plus all the gluten free goodies picked up at the grocery store and enjoyed while visiting with my parents in their relaxing town. I was definitely on gluten free goodie overload!  I love visiting Spain and I look forward to my 'every 2 years' visits. Each time we go, we try to visit a new city (a deal I have with my hubby) and I fall in love all over again. Things seem much simpler there – the food, transportation and life in general. Staple Spanish food is so simple and so delicious, with many options being naturally gluten free! And when it comes to gluten free products in store, the shelves are packed with gluten free goodness at a price that can't be beat. Everything is clearly labeled, making it easy to see what is safe to eat. *Sigh* I only wish more options like these were readily available here at home.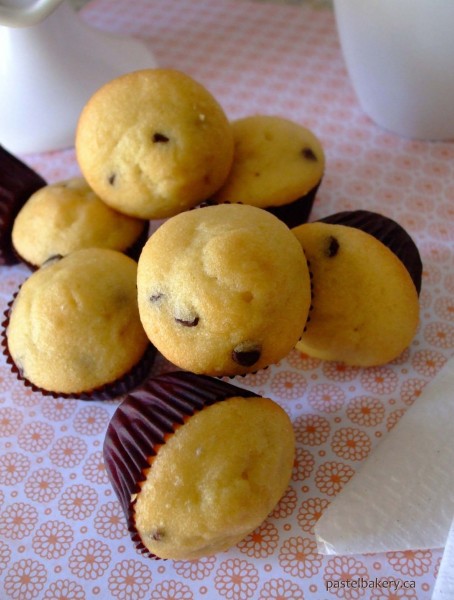 Being drunk on the simple life, it did take me about a week to get back into the baking game. But when I got my butt in gear, I kept it simple and made these Gluten Free Dairy Free Mini Chocolate Chip Muffins. Aside from filling pails with fresh milk and stealing fresh eggs from the chicken coop, another childhood memory of mine while spending my summer in Spain was indulging in the mini muffins the town baker would make. Again, they were very simple but so delicious – just flour, oil, sugar and eggs. I used to love cutting them in half, and spreading Nocilla on each side. For those of you who don't know, Nocilla is the Spanish version of Nutella (and by the way it's labeled gluten free!).
Alas, years ago I had to stop eating these little muffins, seeing how they are not gluten free. And so, this was my attempt at replicating them. And I must say, from what I remember, they're pretty dead on. Now even though the original muffins did not have chocolate chips, I had to add them, because who could resist Chocolate Mini Chips from Enjoy Life Foods. However, during this trip, upon a visit with my mom to the town baker, I noticed they now have a chocolate chip version as well. I suppose no one can resist a little bit of chocolate! I also noticed the bakery has come a long way from when I was a child. There are so many baked goods available, and they change on a daily basis – from croissants to mini tarts, the options seem endless. It's nice to see the simple things, such as the muffins I once enjoyed in my younger days, are still around. Guess you can't mess with a good thing.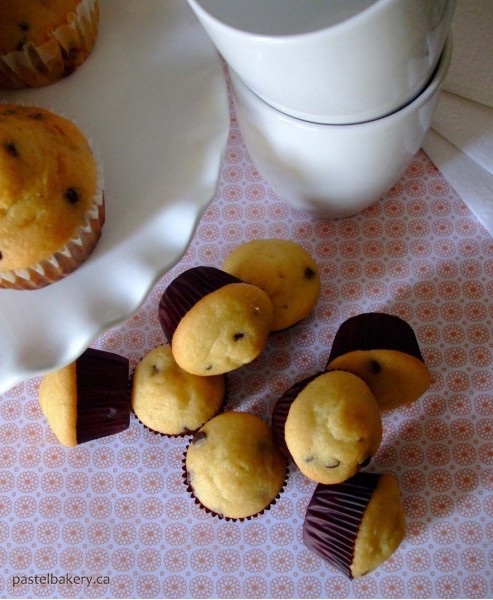 Pure deliciousness!
Eva
Note:
I also made a batch of large muffins. If you choose to make large ones, baking time is noted in the below recipe.
Enjoy!
Gluten Free Dairy Free Mini Chocolate Chip Muffins
Simple and easy, these moist chocolate chip muffins are irresistible!
Ingredients
1 1/2 cup all purpose gluten free flour
1/2 cup white sugar
2 tsp baking powder
1/4 cup light olive oil
2 eggs, room temperature
1/2 cup almond milk
1/2 cup (or more) Enjoy Life Chocolate Mini Chips
Method
Preheat oven to 400ºF and prepare muffin trays with liners (large or mini). Set aside.
In medium bowl, combine flour, sugar and baking powder and set aside.
In large bowl, whisk together eggs and oil. Slowly whisk in 1/2 of flour mixture alternating with 1/2 of milk mixture, making sure no lumps are left. Add in remaining flour and milk and mix well.
Stir in mini chips.
Fill liners 2/3 full and place in oven. Bake large muffins for 20 min, and mini muffins for 15 min.
Remove from oven and cool for 2 min in trays before transferring to wire racks to cool completely.
http://www.pastelbakery.ca/gluten-free-dairy-free-mini-chocolate-chip-muffins/
Copyright 2014 Pastel Bakery: Gluten Free Desserts . All Rights Reserved | www.pastelbakery.ca