I recently made a vanilla bean cookie for Easter, but as usual, I wanted to make something else for our family gathering.  Since I wouldn't be making an Easter themed cupcake, I knew it had to at least be chocolate based.  And that's how these Gluten Free Chocolate Cupcakes with Dulce de Leche Drizzle were born.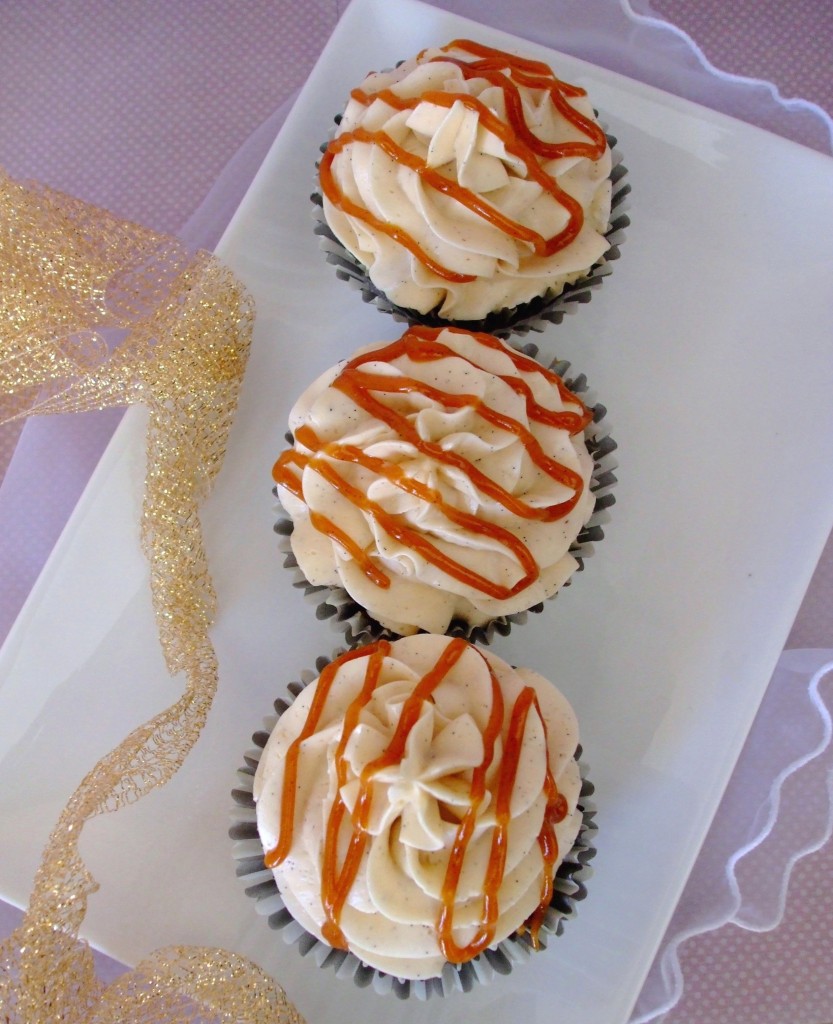 I'll forewarn you…this is definitely a decadent cupcake, but trust me it's worth it!  I added Nutri-whip whipped topping to the cupcake batter, and used a premium cocoa.  The result was a light chocolate cupcake but with a rich brownie taste.  If you only have one mixer (like me), you will need to remove the mixed batter from the bowl in order to whip up the Nutri-Whip before folding it into the batter.  Times like this I wish I had a second mixer (hint, hint to my hubby).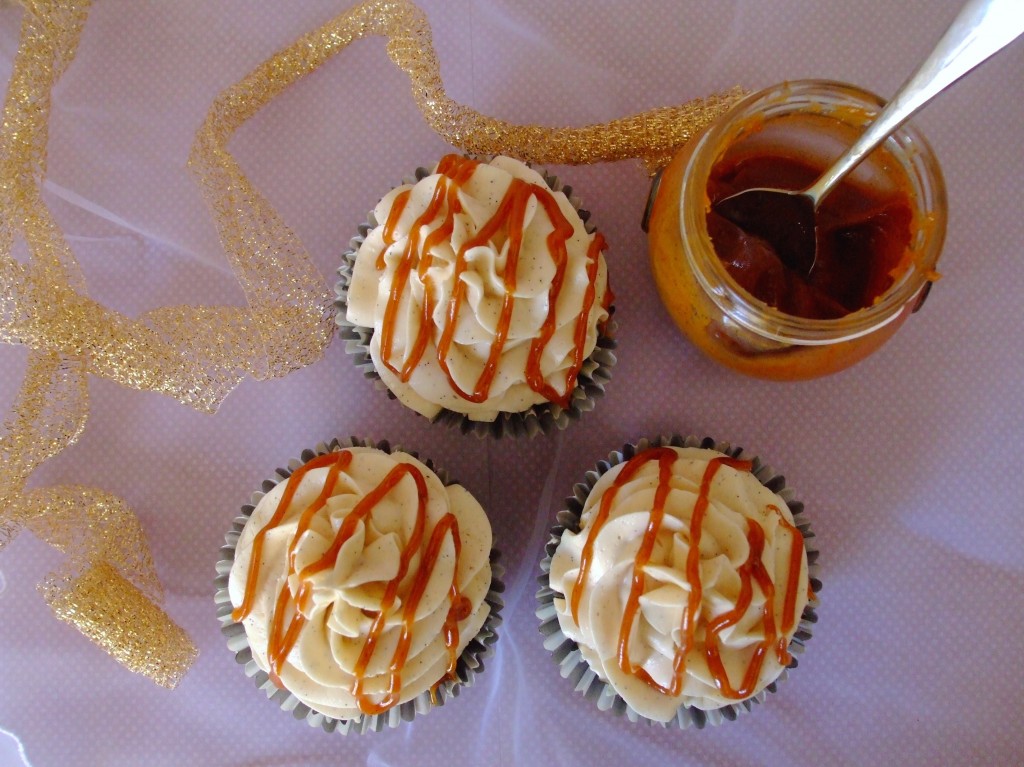 Each cupcake was filled with homemade dulce de leche – providing the perfect level of hidden gooiness and nicely complimenting the chocolate.  Can I just take a moment to talk about my new obsession: dulce de leche? This recipe I found on Spicie Foodie was so easy and super delish!  It looks like caramel…it's thick like caramel…but baby, it ain't caramel!  You can definitely eat it up by the spoonful.  Yes, it's that good!  I did not realize dulce de leche was this easy to make, if I did, I would have made it long ago. The smell of milk cooking on the stove reminded me of my childhood summers visiting my grandparents in Spain.  There was a milk delivery truck which would drive thoughout the town selling milk.  The driver would loudly (and repeatedly!) honk the horn, bringing people to their front doors with pail in hand.  There were many a time I was one of these people.  We would line up at the back of the truck and patiently wait for our pails to be filled with fresh milk stored in the large stainless steel canisters.  My grandmother would then simmer pots of this fresh milk for us to enjoy.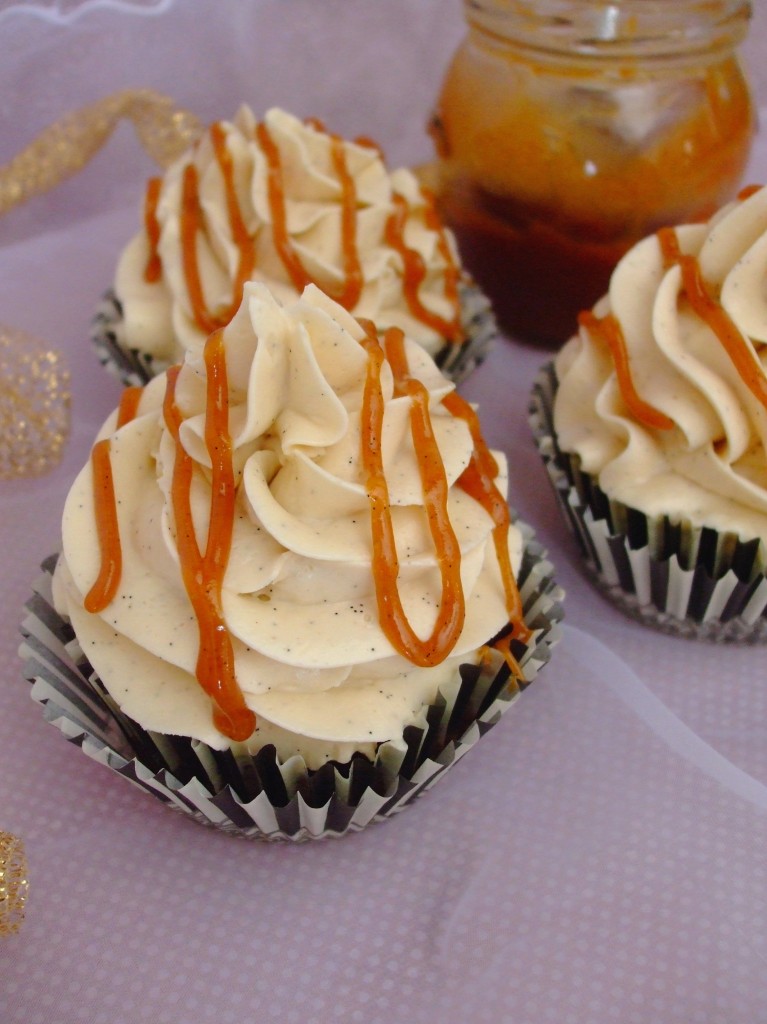 Of course, no cupcake is complete without fluffy frosting.  These cupcakes were topped with a Vanilla Bean Swiss Meringue Buttercream and drizzled with dulce de leche – because you can never have enough of that stuff.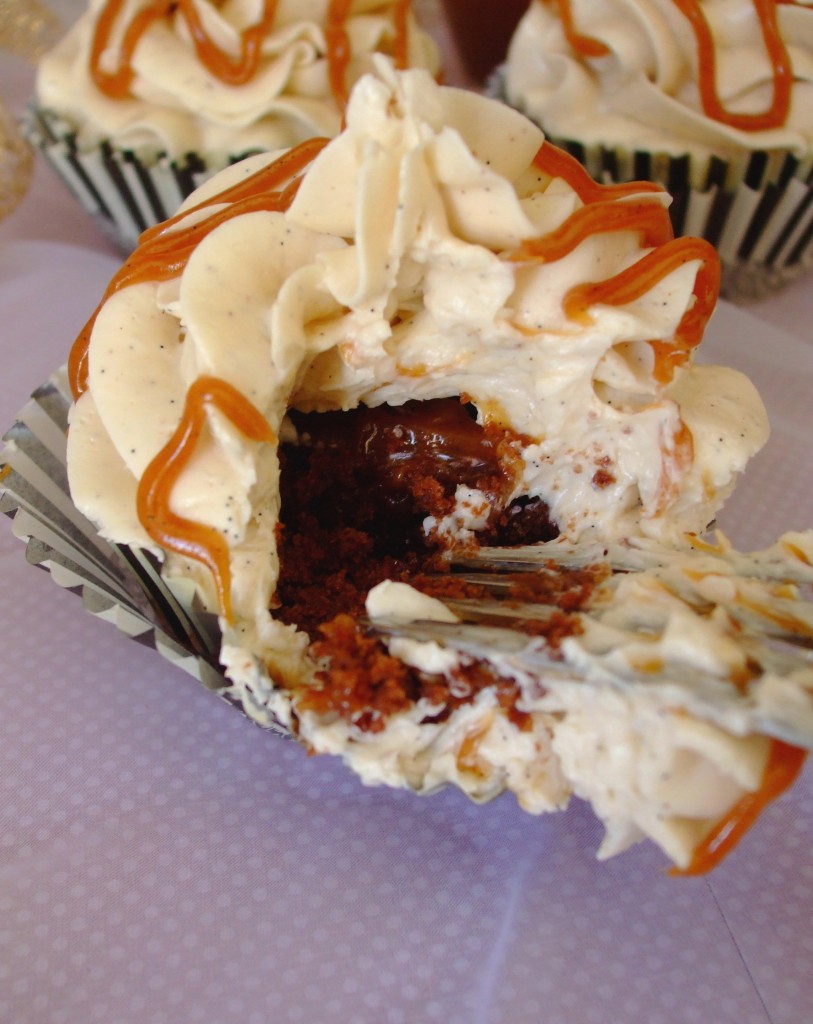 Like I said, this cupcake is decadent.  And if you're getting ready for swimsuit season, well, fugget about it.  Just close your eyes, lose yourself in this heavenly delight and screw the swimsuit – there's always next year.  Pure deliciousness!
Enjoy and thanks for stopping by!
Eva
Gluten Free Chocolate Cupcakes with Dulce de Leche Drizzle
A decadent chocolate cupcake topped with a vanilla bean swiss meringue buttercream and dulce de leche drizzle!
Ingredients
For Cupcakes:

1/2 cup white rice flour
1/2 cup sorghum flour
1/4 cup buckwheat flour
1/4 cup tapioca starch
1/2 cup unsweetened premium cocoa
1 1/2 tsp baking powder
1 cup brown sugar
1/2 cup light olive oil
3 eggs, slightly beaten
1/3 cup almond milk (chocolate optional)
2 tsp vanilla bean paste
1/2 cup Nutri-Whip whipped topping
2 cups goat milk
1/2 cup white sugar
1 tsp vanilla bean paste
1/4 tsp baking soda (added to aid in the browning process)

For Vanilla Bean Swiss Meringue Buttercream:

5 egg whites
1 1/4 cup white sugar
1 1/2 cup unsalted butter
1 1/2 tbsp vanilla bean paste
Method
For Cupcakes:

Preheat oven to 350°F. Prepare cupcake trays with liners and set aside.
Place first 7 ingredients in bowl of mixer and stir to combine.
Add remaining ingredients and mix until well combined, about 2 minutes.
If using one mixer bowl, remove batter from bowl and clean thoroughly.
In clean mixer bowl, add Nutri-Whip and beat until stiff peaks form.
Fold Nutri-Whip into batter until just combined.
Fill liners 1/2 to 3/4 full. Bake for 22 minutes or until cupcakes spring back when touched in center.
Remove from oven and let cool in pans for 5 minutes before transferring to wire racks to cool completely.

For Dulce de Leche:

In a medium-large pot over medium heat, combine the goat milk, sugar, vanilla and baking soda, and bring to a light boil. Using a wooden spoon, stir to make sure all of the sugar has dissolved.
Cook the mixture over medium heat, for about 20 minutes, stirring frequently. At any time should the liquid bubble and rise, continue stirring until bubbles have subsided.
After about 20 minutes or so, the mixture should begin to a darken and thicken into a thick sauce consistency. Continue cooking, stirring frequently until the mixture turns a dark caramel colour and coats the wooden spoon. This may take another 20-40 minutes depending on liquid left in the pot. For me, it took about another 20 minutes to reach this thick consistency which resembled sweetened condensed milk.
Pour into a clear jar and allow to cool completely. If you will be using the dulce de leche immediately, let cool completely before filling and drizzling cupcakes.
Any leftovers can be stored in the refrigerator and will keep for a couple of weeks. Before using dulce de leche which has been in the refrigerator, you will need to bring to room temperature, or you can warm in the microwave for about 10 sec. This will make it easier to spread/drizzle. If you will be eating straight out of the jar by the spoonful, no need to wait for it to warm up :)
This recipe makes about 1 cup.

For Vanilla Bean Swiss Meringue Buttercream:

Cut up butter into cubes and set aside.
Add egg whites and sugar to bowl of mixer (ensure it's grease free!), and set over double boiler with water simmering, not boiling.
Whisk constantly but gently until temperature reaches 160°F on a candy thermometer (about 10 min). Clean down sides of bowl every so often with pastry brush or spatula.
Remove from heat and place on mixer with wire attachment.
Whip until meringue is thick, glossy and the bottom of the mixer bowl is neutral to the touch (about 10 min).
Switch over to the paddle attachment and with mixer on low speed, add butter one cube at a time, mixing well between each addition.
Mix until all cubes of butter have been added and frosting has reached a silky smooth texture.
Note: if the mixture curdles, keep mixing it on med-low until it comes back smooth (don't worry, it will come back smooth!).
Add vanilla bean paste and mix until well combined.
Leftovers can be stored in the refrigerator for up to a week or in freezer for 6-8 weeks.
This recipe makes about 5 cups, enough to frost 24 cupcakes with a bit leftover
http://www.pastelbakery.ca/gluten-free-chocolate-cupcakes-with-dulce-de-leche-drizzle/
Copyright 2014 Pastel Bakery: Gluten Free Desserts . All Rights Reserved | www.pastelbakery.ca