I looove molasses cookies! Could be because I'm a November baby – seems I always lean towards warm and comforting desserts, best enjoyed in the fall (which also happens to be my fave season). Yet surprisingly, I had never tried making a gluten and dairy free version of this cookie. I know, right?! Guess sometimes even the best and simplest things get over looked. So when I heard Food Bloggers of Canada announced the Crosby's Sweet Dreams Cookie Contest, right away I knew I was in! Bonus: Crosby's Fancy Molasses is labeled gluten free – how sweet is that?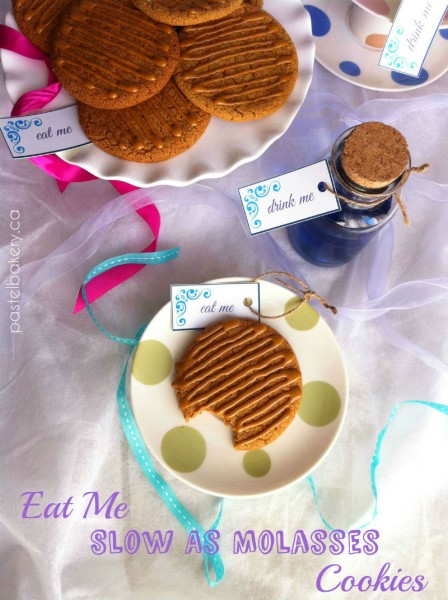 After perfecting the recipe, I knew I had to come up with a clever name for this perfect molasses cookie. This ain't your ordinary molasses cookie where you just devour it in seconds, like a high powered vacuum, leaving no little crumbs behind. Nu-uh. Every morsel of this cookie is blissfully enjoyed in peace. Bite after bite, you forget your surroundings and eat it slow…as molasses!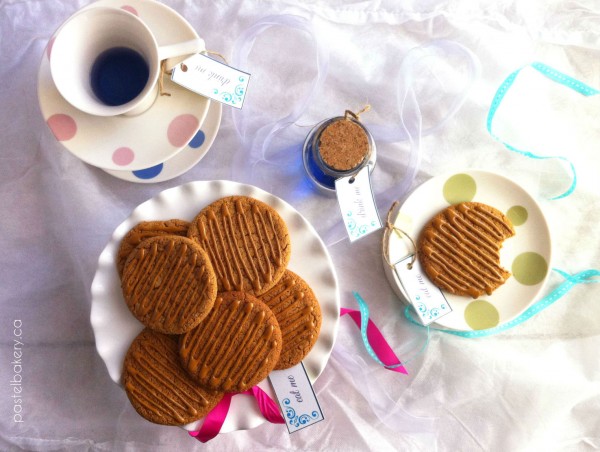 Now when I think of the phrase 'eat me' I think of Alice in Wonderland. I should be ashamed to say it, but, I have never read the book. Please don't hate me. Probably not a bad idea I sit down and read the book someday. Let me just add it to the pile.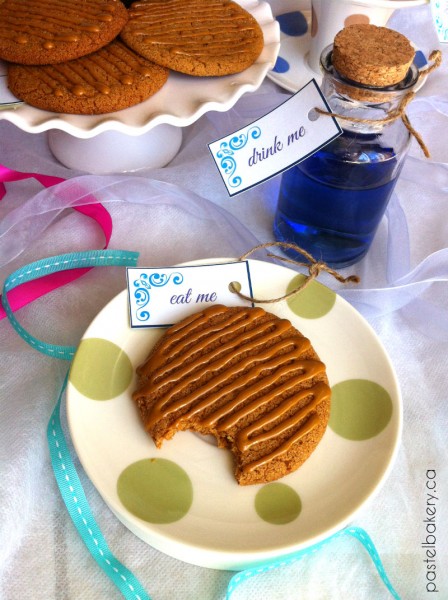 My first introduction to this story was as a child through the Disney (animated) movie. I guess it's not such a bad thing, since I was probably too young to read the book anyway. The sweet little treat packages that Alice would find with the 'eat me' tag, or the wee little bottles labeled 'drink me' – all too cute. But I'd probably have to say, my favourite part was when she finds herself at the tea party. So much silliness…plus, the 'Happy Un-Birthday' song! I suppose a tea party would be the best place to enjoy a cookie such as this one. Is it just me, or does it seem like life just stops when you're at a tea party? With the treats you carefully take little nibbles out of, and those pretty cups filled with colourful tea which you calmly sip from….ah…but back to the cookies…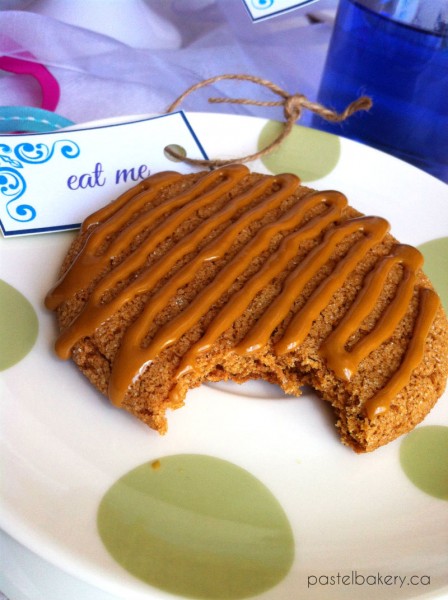 These cookies have a crispy edge and a chewy center – the perfect combo! Plus they have just the right hint of spices making this cookie, pretty darn irresistible, if I do say so myself. No butter up in here either! You won't believe these cookies are made using olive oil. Yes, that's right – olive oil. And that extra molasses drizzle on the top – oh my! Trust me; you will definitely want to eat these slow as molasses…and maybe while hosting your own silly tea party.
Pure deliciousness!
Enjoy,

Eat Me Slow As Molasses Cookies
Crispy around the edges, chewy in the middle, the perfect combo for a perfect molasses cookie!
Ingredients
1 1/4 cup white rice flour
1/4 cup potato starch
1/4 cup tapioca starch
2 1/2 tbsp cornstarch
1 tsp baking powder
1/2 tsp baking soda
1 tsp ground cinnamon
1/4 tsp ground ginger
1/8 tsp ground cardamom
1/4 cup light olive oil
1/2 cup brown sugar
1 egg, room temperature
1/4 cup fancy molasses (I used Crosby's Fancy Molasses)
granulated sugar for rolling

Glaze (optional)

5 1/2 tbsp icing sugar
1 tbsp fancy molasses (I used Crosby's Fancy Molasses)
1 tsp water
Method
Preheat oven to 350°F. Line cookie sheets with parchment paper or spray with non-stick cooking spray; set aside.
In large bowl, combine flours, starches and spices; set aside.
In bowl of mixer, beat oil with sugar. Add egg and beat until smooth and creamy. Add molasses and mix until well combined.
Stir in flour and mix until just combined, scraping down sides of bowl as needed.
As dough will be very sticky, refrigerate for about 10 min.
Scoop about 1 tbsp of dough at a time, roll into a ball and roll in granulated sugar. Place on prepared cookie sheet leaving about 2" between each cookie.
Bake for 10-12 min or until cookies expand and puff up (note they will flatten once cooled). If you prefer a crispier cookie, bake for 14 min. Note, I only baked one sheet at a time. If you place 2 sheets in the oven at once, be sure to rotate halfway through baking time.
Let cool for about 8 min on sheets, before transferring to wire racks to cool completely. Be gentle when removing cookies from cookie sheets as they will be soft.

For Glaze:

Mix all ingredients in a small bowl until fully combined.
For speedy clean up, take a small plastic sandwich bag and cut a very small hole out of one corner. You will squeeze the glaze out of this hole, so make sure to keep the cut very small. Spoon the glaze into the bag and decorate the cookies as desired.
If you prefer, you can use a pastry bag with a small tip, instead of the small plastic sandwich bag.
http://www.pastelbakery.ca/gluten-free-dairy-free-molasses-cookies/
Copyright 2014 Pastel Bakery: Gluten Free Desserts . All Rights Reserved | www.pastelbakery.ca