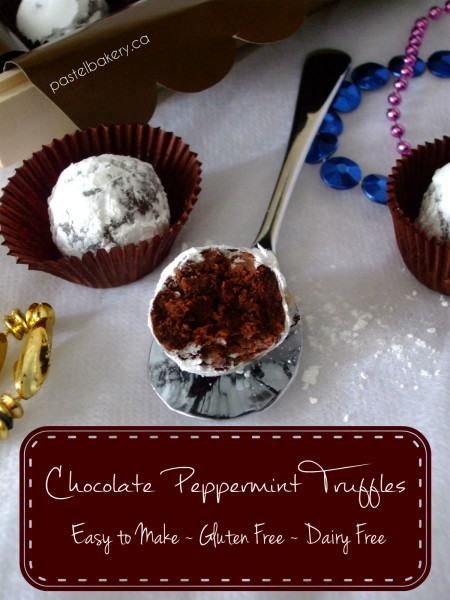 I'm guessing some of you may be busy these days, given the holidays and all, but I had to share this super easy recipe in case you wanted to ring in 2014 with a truffle in hand…so I promise to make this one quick. These Gluten Free Dairy Free Chocolate Peppermint Truffles are absolutely amazing! They're amazing amaze-balls to be exact! Rich, creamy chocolate with a hint of peppermint…and oh so easy to make!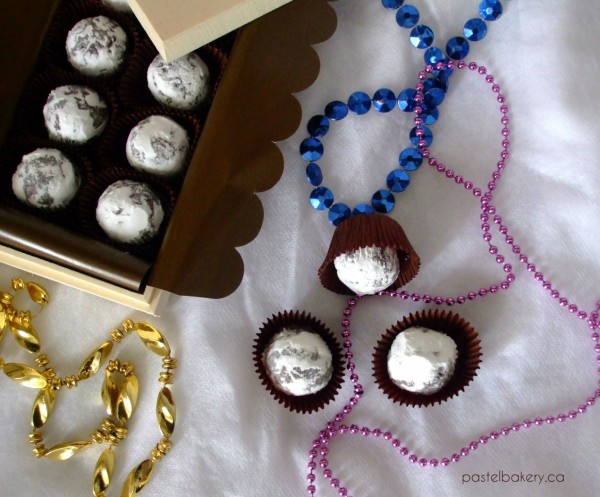 Really they remind me of an After Eight chocolate ball. I LOVED After Eight chocolates. LOVED. Yes, I use past tense here because I had to give them up once I discovered they were on the no-no list for me (as they may contain gluten). Big frowny face. When the boxes appear in the stores around this time of year, I pick one up, and cross my fingers that maybe this time, they are safe to eat, but they never are. Sure enough I tricked myself into checking again this year, and of course…no such luck. So how happy was I when I popped one of these easy to make truffles in my mouth and realized what I had just created? Really I created a truffle monster over here, and you cannot believe the happy dance this monster pulled off. Just dancing, no twerking.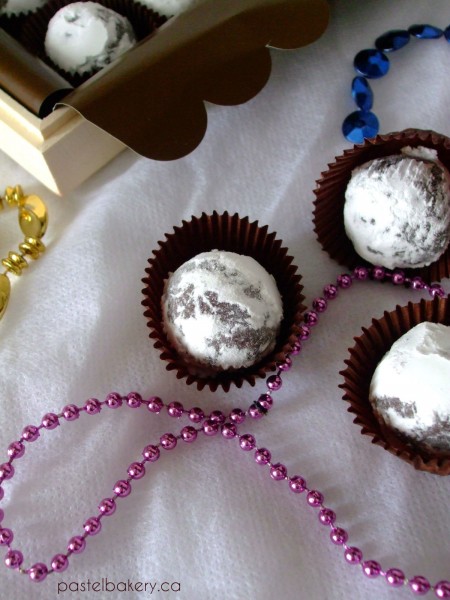 And what's better is these truffles are so quick to whip up and mess is a minimum. There's nothing I hate more than getting chocolate all over my hands when rolling up truffles. Ugh. Way too gooey and messy. But with this easy to make truffle recipe, those days are long gone! I used this Peppermint Bakery Emulsion to give the truffles their minty flavour (from the same line as the orange one I used in my last post). If you can't get a hold of this emulsion, you can always use pure peppermint extract which is available in grocery stores.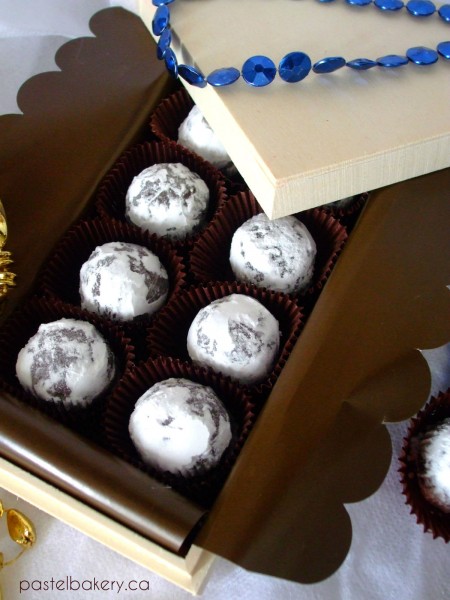 So, if you're stuck on what treat to indulge in this New Year's Eve. Or maybe you need a hostess gift? Or maybe you just want tie your hair up in a mess, throw on your comfy pants, put on a good movie and sit down with a big bowl of truffles…I promise you, these easy to make truffles are the ones for you.
By the way, did I mention just how easy these are to make?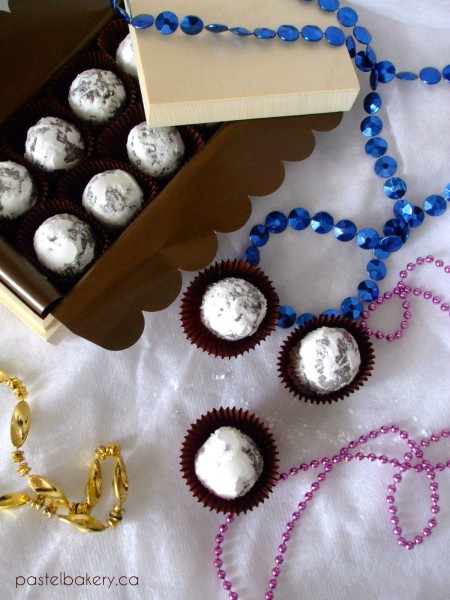 Pure deliciousness!
Eva
Gluten Free Dairy Free Chocolate Peppermint Truffles
Super easy to make and quick to prepare, these chocolate peppermint truffles are sure to please.
Ingredients
1 1/2 cups icing sugar
1/2 cup unsweetened cocoa, sifted
3 tbsp almond milk
2 tsp coconut oil, softened (see note below)
1 1/2 tsp LorAnn Oils Peppermint Bakery Emulsion, or pure peppermint extract
Icing sugar to roll truffles in (optional)
Method
In a medium bowl, stir together icing sugar and cocoa.
Add in almond milk and continue stirring. The truffle 'batter' will begin to clump together (similar to when making a pie crust or crumb crust).
Add in coconut oil and peppermint emulsion and continue stirring until mixture is fully combined and pulls away from sides of bowl. Mixture will clump completely together. If for some reason it doesn't, you can choose to add more icing sugar (1 tbsp at a time) until the 'dough' sticks together. If not, it will still roll without this extra icing sugar, only it will be sticky and a bit messy.
Roll about 1 tsp at a time between palm of your hands. I wore gloves to keep chocolate mess at a minimum.
At this point you can choose to roll each truffle in icing sugar, in a small bowl, or leave as is.
Place truffles mini paper liners or directly in airtight container. If you need to place truffles on top of each other, make sure to place a piece of wax paper between each layer.
Store in an airtight container and keep in refrigerator until ready to serve.
Notes
I softened the coconut oil by stirring it (by hand), in a small bowl for about a minute.
http://www.pastelbakery.ca/gluten-free-dairy-free-chocolate-peppermint-truffles/
Copyright 2014 Pastel Bakery: Gluten Free Desserts . All Rights Reserved | www.pastelbakery.ca