It's hard to believe we're already in November! I feel like autumn is slowly slipping away. With all the crazy winds and rain we've been having on and off these last few days, the majority of the colourful leaves have dropped off the trees…BIG FROWNIE FACE. So I'm trying to stay in the autumn spirit by indulging in some warm pie. Gluten Free Dairy Free Apple Crumble Pie to be exact. I can't believe it's taken me so long to share this AWESOME recipe. It's so delicious, that barely half of the pie made it to the photo shoot…for real.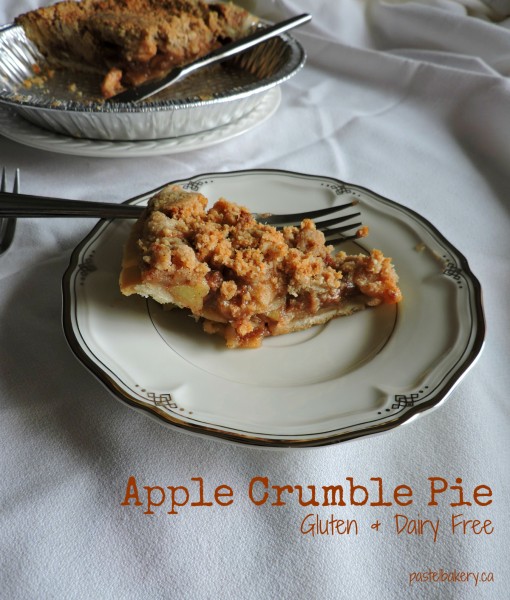 I missed out on apple picking last year, on account of having just had little E, I wanted to head out this year and take E along for her first apple picking trip. Of course, I'd be doing all the picking, but she still enjoyed playing with the apples and trying to eat them.
We ventured out to Organics Farm with Mel (from Glutrition) and baby S. Again, there was a little bit of superficial apple picking going on…but mainly because they looked so cute in a baby's hand.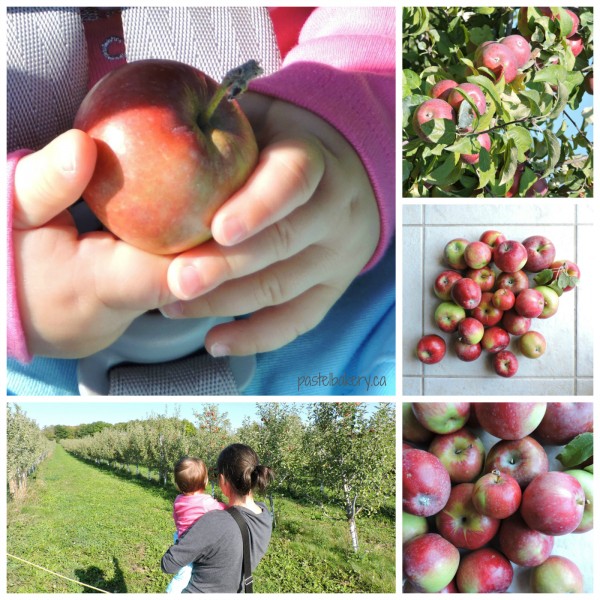 With so many apples picked, I debated making these Gluten Free Dairy Free Caramel Apple Spice Muffins, but really started to crave a pie. Let's be real though….there is no way I'd be able to make a pie crust, from scratch, with an active baby in the house. So, I opted for a shortcut and used a pre-made gluten free pie crust and a crumble topping. Of course, if you have the time to make a crust from scratch…well then even better.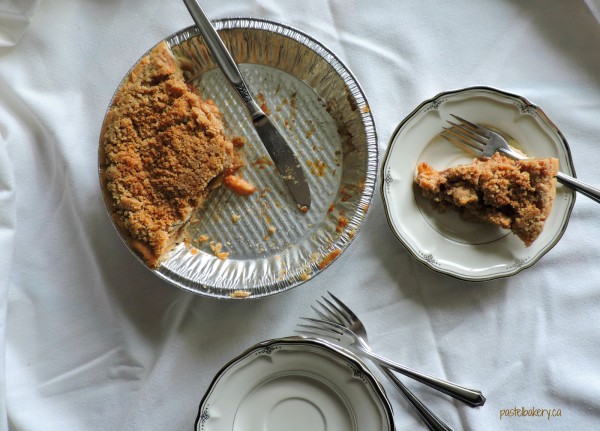 I baked the pie in the evening, so I couldn't photograph until the next day. Something to keep in mind next time I bake a delish pie. Plan ahead and bake earlier in the day…or better yet, just bake two! One as a photo prop and one for taste testing. That could be a thing, right?
Pure deliciousness!
Enjoy,

Gluten Free Dairy Free Apple Crumble Pie
Melt in your mouth apples, covered in spices and vanilla, topped with an easy yummy crumble. Adapted from mom spark
Ingredients
1 ready-made pie crust (or 1 homemade pie crust)
Approximately 5 cups peeled cored sliced apples
1 tbsp fresh lemon juice
1/2 cup granulated sugar
1/4 cup brown sugar
1 1/2 tbsp brown rice flour
1 1/2 tbsp sorghum flour
1 tbsp potato starch
1 tbsp vanilla bean paste
2 tsp ground cinnamon
1/4 tsp nutmeg

For Topping:

1/2 cup brown rice flour
1/4 cup sorghum flour
1/4 cup granulated sugar
1/4 cup brown sugar, packed
1/3 cup coconut oil
Method
Preheat oven to 375°F. If using homemade pie crust, fit pie crust into pie plate and set aside,
In a large bowl, mix sliced apples, lemon juice, sugars, flours/starch, cinnamon and nutmeg. Pour into prepared crust.
In a medium bowl, with a pastry blender (or fork), mix topping ingredients until coarsely crumbled. Sprinkle evenly over apples.
Cover edges of the pie crust with foil (to prevent the crust from browning too early) place in oven and bake at 375°F for 50 minutes.
http://www.pastelbakery.ca/gluten-free-dairy-free-apple-crumble-pie/
Copyright 2014 Pastel Bakery: Gluten Free Desserts . All Rights Reserved | www.pastelbakery.ca