Guys…it's STRAWBERRY SEASON!!  But sadly it's almost over.  Luckily there's still a few weeks left, so I'm not late to the seasonal party just yet! So if you have fresh local strawberries on hand (ok, and even if you don't), you MUST make these Roasted Strawberries.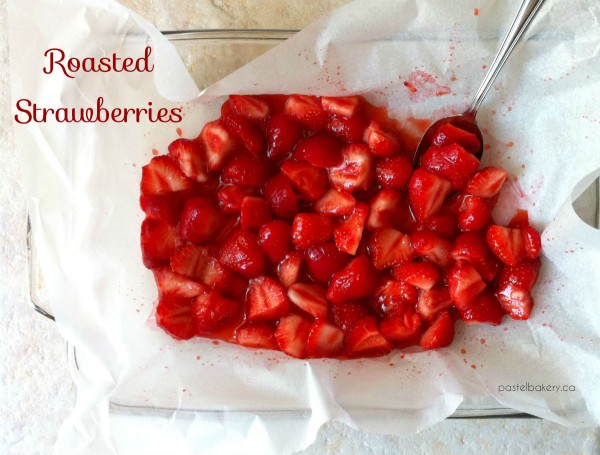 I'd have to say strawberries are probably one of my fave fruits, so it's pretty sucky that strawberry season is only 2 months (at least here in Ontario). Big bummer. Yes, I realize you can find strawberries year round at your local grocer, but let's face it…nothing is better than fresh local strawberries. So sweet and full of flavour. Of course, in the past when local strawberries started popping up in store, I'd stock up like a mad woman. Or like a crazy strawberry lady. Then what would happen? The ever dreaded over ripening. Unfortunately, I'm only one person here who enjoys these sweet berries, seeing how hubby isn't a big fan…but I'm hoping baby will be (news here if you missed it). I'm crossing my fingers I'll soon have someone to share fruits and veggies with! It may seem lame, but it's frustrating when you're one person who enjoys a variety of fruits and veggies. That means having to scarf down a bunch of produce before it goes bad. Not my kind of fun. I actually enjoy piling up my plate with a variety veggies when I eat at family/friends places. Some may see it as weird (or sad); especially when there is the option of say, BBQ'd steak or chicken, but I see it as seizing an opportunity. But back to the strawberries…
Even though I'm just one lonely fruit lover in this house, I can never resist stocking up on local strawberries given they're only available for such a short period. But now, with this recipe for Roasted Strawberries, no berry will over ripen and turn ugly. Yes, I'm picky with my fruits appearance. It's like superficial apple picking over here.
Seriously though, I honestly cannot believe how easy it is to make this. Super fast and only a few ingredients. In no time your house will be filled with the aroma of the roasting berries mixed with spicy cinnamon and warm vanilla. So. Good.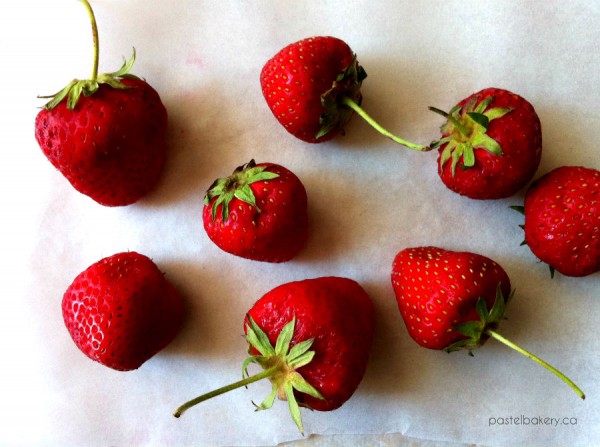 If you are a strawberry lover, you definitely must try this! Perfect to spoon over vanilla ice cream or Greek yogurt (as you may have seen from my Instagram). Or, if you're looking for an easy and light summer dessert, stay tuned for my next post, using these Roasted Strawberries. I'll be sure to post very soon before the season gives out.
Pure deliciousness!
Enjoy,

Note: when I first made these Roasted Strawberries, I covered my glass dish in parchment paper so the strawberry syrup wouldn't stick and bake to the sides of the dish. I would suggest NOT going this route. I found it difficult to stir the strawberries without ripping the paper. On my next tries, I added a little of olive oil to the berries so they wouldn't stick (which I've noted in the recipe below). This worked much better.
With a hint of spicy cinnamon and warm vanilla, these roasted strawberries are irresistible! Perfect served over vanilla ice cream or yogurt.
Ingredients
About 1 1/2 - 2 cups strawberries (stems removed, washed & cut)
1 tbsp granulated sugar
1/2 tbsp light olive oil
1 tsp vanilla bean paste
1/2 tsp ground cinnamon
Method
Preheat oven to 350°F.
Place berries in a glass dish and sprinkle with sugar, cinnamon and vanilla. Toss gently to coat. Let sit for about 5 minutes (this will help the juice from the strawberries to be released).
Add olive oil and stir gently to coat.
Spread berries out evenly in dish and bake for 20 minutes, stirring half way through.
Remove from oven and let cool slightly before using immediately. Or let cool completely, before storing in a tightly sealed jar and refrigerate.
http://www.pastelbakery.ca/roasted-strawberries/
Copyright 2014 Pastel Bakery: Gluten Free Desserts . All Rights Reserved | www.pastelbakery.ca