Summer always seems to be about refreshing treats like these popsicles I recently made. But let's face it; popsicles don't travel well in the summer heat….however these Gluten Free Dairy Free Butter Tarts absolutely do!
Obviously, I do enjoy frozen treats during summertime, but I also enjoy butter tarts. Could be because of their ooey-gooey fillings or because they're perfect for picnics and backyard BBQ's. Or, could be because I sometimes like to enjoy them frozen (probably because the gluten free versions you find in store are always frozen). Regardless, I was excited to make these Gluten Free Dairy Free Butter Tarts. I've been meaning to make these for a looong time, but was hung up on the fact I wanted to make them dairy free. Frankly, I was scared eliminating butter from the shells would result in, well let's face it, a crappy tart shell. But I was wrong – they turned out perfect!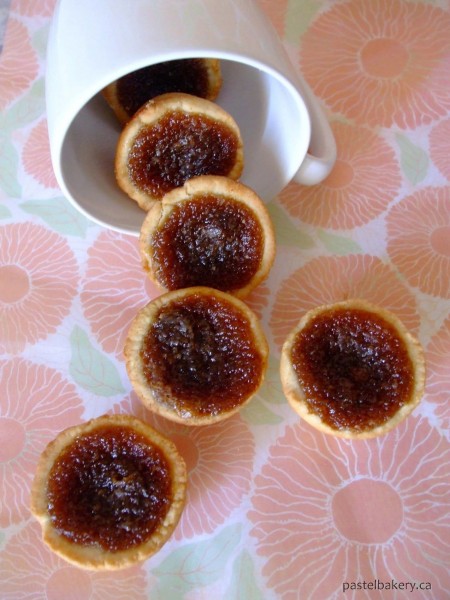 Of course, you're not going to get the same flaky texture you would when using butter, however, they did have a nice crumbly texture and held the filling well in place. So much nicer being able to enjoy a dessert knowing you're not going to pay for it later on. Granted a bit of butter could be handled, but sometimes you just ask yourself, is it honestly really worth it if there is another option? I actually made these for our Father's Day BBQ, to enjoy after Glutrition's delicious gluten free beef sliders (yes, I realize I am very late in posting this recipe, but hey, better late than never). As we would be at our annual prostate cancer awareness walk in the morning, I knew I had to make a dessert that could keep for many hours in a hot car (in a cooler bag of course). Like I said, they travel well.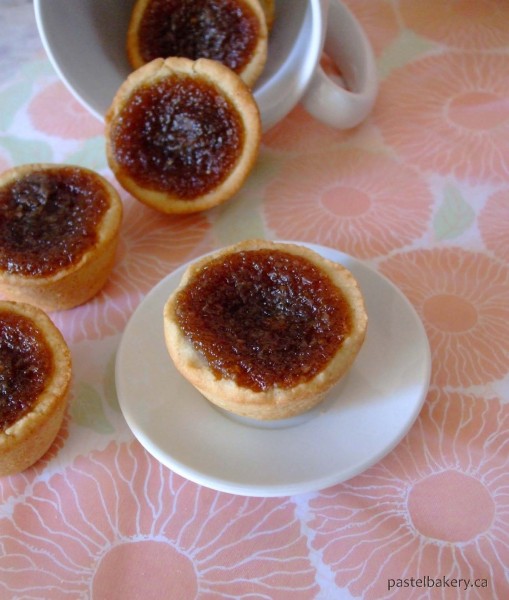 Now I realize, many people (including myself sometimes), aren't big on baking in the summer, because really, who wants to turn on the oven and drown their home in more heat?? But this recipe is so quick and easy that you'll forget about the heat. Before you know it, the tarts will be out of the oven and you won't be able to stop yourself from devouring at least one teeny tiny tart before it cools down completely. Disclaimer: expect to burn your tongue if you do so…I learned the hard way.  And side note, I did it again when I made a second batch.  I guess I'll just never learn.
For the filling, I used pure Canadian maple syrup instead of corn syrup and for a chocolate surprise, added some Enjoy Life Mega Chunks. I do like butter tarts with raisins, but I know most don't. And since I would be sharing these Gluten Free Dairy Free Butter Tarts, I decided to omit them this time around.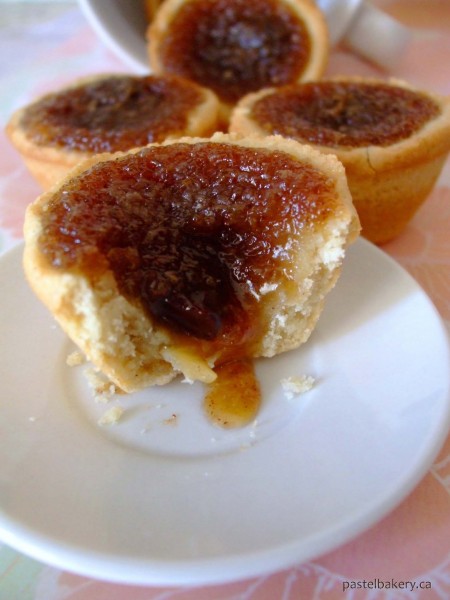 These are so easy that I will be making these again for a Canada Day gathering this long weekend. Did I mention they're the perfect way to finish off a backyard BBQ?
Pure deliciousness!
Enjoy and thanks for stopping by!  Happy Canada Day to my fellow Canadians!
Eva
Gluten Free Dairy Free Butter Tarts
These butter tarts are oozing with pure maple syrup and chocolate centers.
Ingredients
For Tarts:

3/4 cup brown rice flour
1/2 cup + 2 1/2 tbsp sorghum flour
1/2 cup + 2 tbsp tapioca starch
1/2 cup icing sugar
1/4 cup light olive oil
1 egg, lightly beaten
1 tbsp cold water (plus more if needed)
1 tsp pure vanilla extract

For Filling:

1/3 cup brown sugar
1/3 cup pure maple syrup
4 tbsp light olive oil
1 egg, room temperature
1 tsp pure vanilla extract
1 tsp ground cinnamon
optional Enjoy Life Mega Chunks or Chocolate Chips
Method
Lightly spray mini tart trays and set aside.
In bowl of mixer, combine flours, starch and icing sugar.
Add oil, egg and vanilla and mix.
Add 1 tbsp of cold water and mix until dough sticks together. Add more water, 1 tbsp at a time, only if needed.
Remove dough from bowl, flatten into a disk, and wrap in plastic wrap. Place in refrigerator for at least 30 minutes to chill slightly (allowing for easier handling).
Meanwhile, prepare the filling by whisking together sugar, syrup and oil in a medium bowl.
Add egg and vanilla and mix until combined.
Preheat oven to 400°F.
Remove dough from refrigerator. Place between two sheets of parchment paper and roll out to approximately 1/4 thickness. Cut dough using a 2" round cutter and line each tart cup with dough. I used an espresso cup to cut the dough since I don't have a round cutter that small.
Place 1-2 chocolate chunks into each tart shell and pour filling overtop ensuring not to fill over the shell edge.
Place in oven and bake for 5 minutes, then lower heat to 375°F and continue baking for another 5-8 minutes, or until edges are golden and filling domes.
Remove from oven and cool in trays for at least 15 minutes before carefully removing and letting cool on wire racks completely.
Store cooled tarts in refrigerator for up to 5 days or in freezer to keep longer.
http://www.pastelbakery.ca/gluten-free-dairy-free-butter-tarts/
Copyright 2014 Pastel Bakery: Gluten Free Desserts . All Rights Reserved | www.pastelbakery.ca