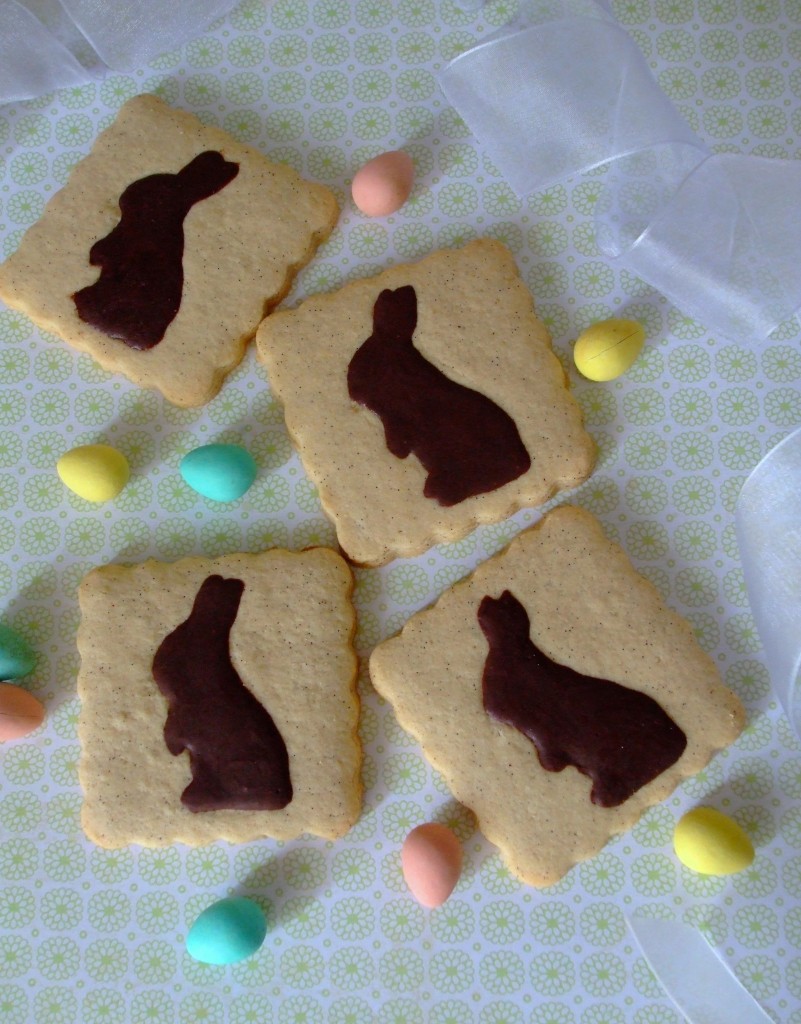 One may ask: where does the Easter Bunny get his egg supply from?  When does he find the time to hide all these eggs for the little children to find anyway?  My egg collecting memories as a child are not of chocolate ones, but rather real eggs.  As a child, I would spend every other summer in Spain visiting my grandparents, who had a large chicken coop in their backyard.  The coop stretched from one end of the yard to the other, where the chicken would spend their days strolling throughout it.  It was while they ventured away from their nests that my grandmother would let me walk in and collect the unguarded eggs.  I remember the excitement in 'stealing' the eggs from the nest.  However, once my eyes locked with the hen who realized what I was up to, I knew I had to get out of there…and fast!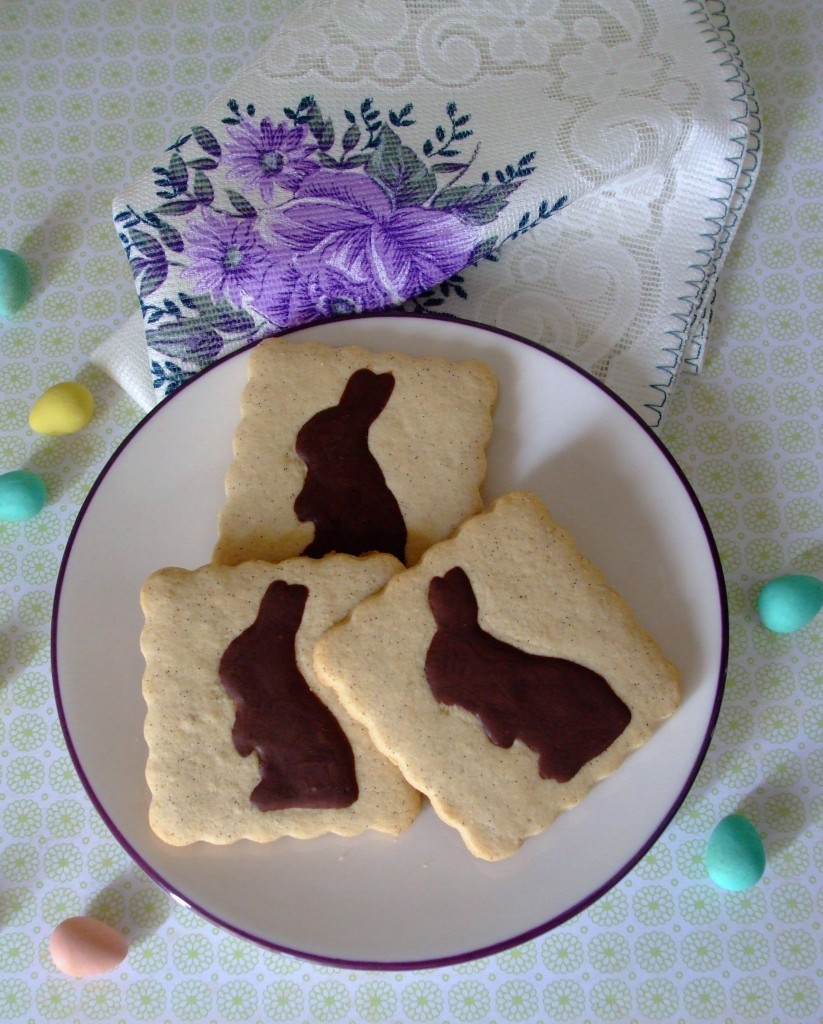 Today, I do not come with a basket full of eggs, regular or the chocolate kind, but I do bring you a scrumptious Gluten Free Dairy Free Vanilla Bean Easter Cookie…chocolate Easter bunny included!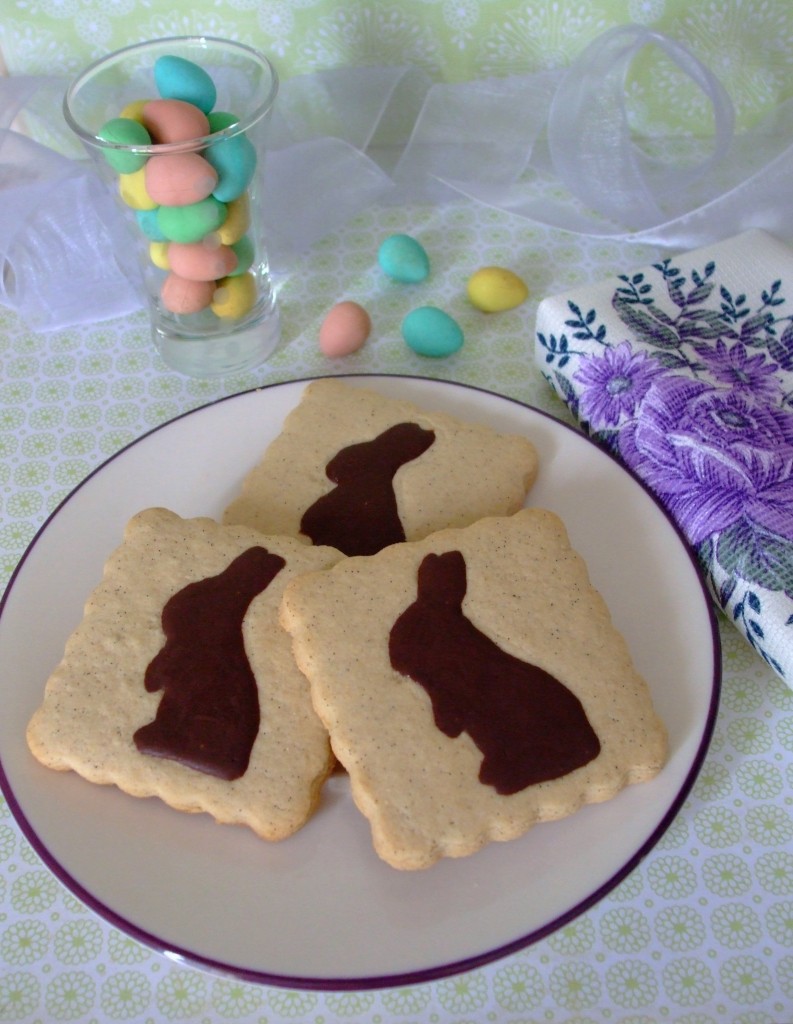 Rather than using Easter themed cutters, I used a scalloped edge cutter and imprinted the cookies with a little bunny.  As I do not have a teeny tiny bunny cutter, I imprinted the cookies prior to baking, using a stamp (specifically designated for food purposes of course).  Once baked, I filled each little bunny with a dairy free chocolate glaze.  Isn't he cute?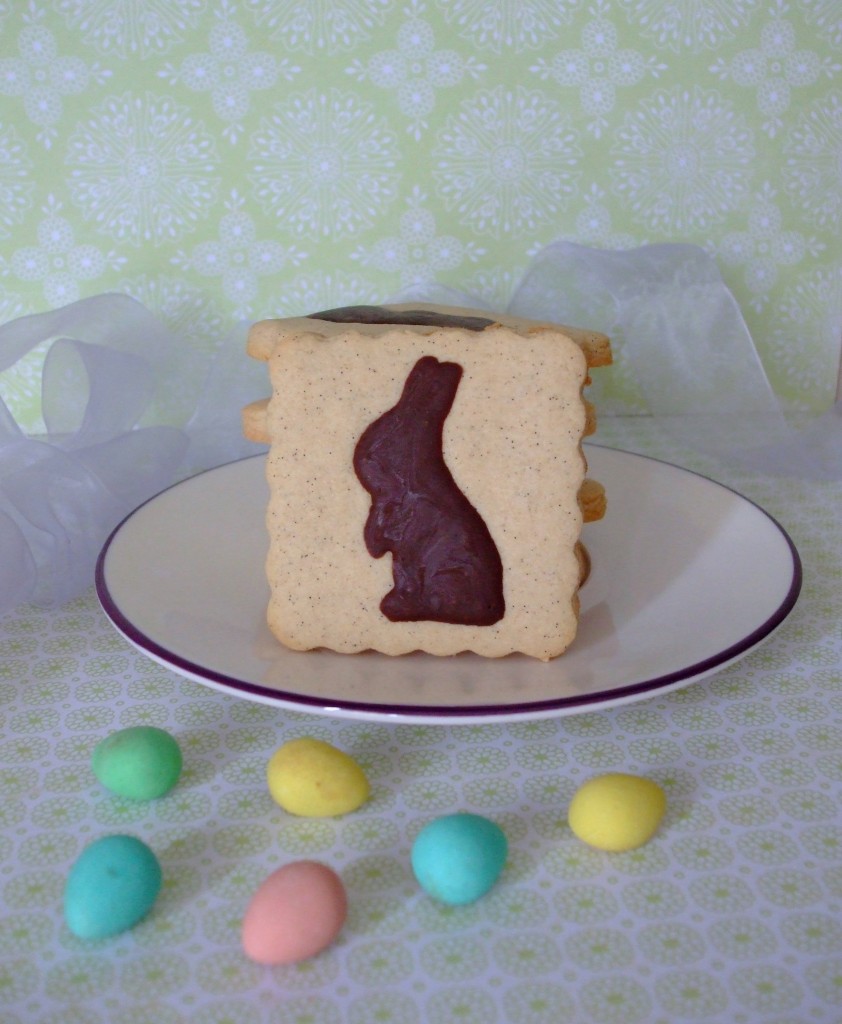 I will admit filling the little bunnies was a bit tricky.  As the glaze cannot be too runny (otherwise it will not dry hard), I found what worked best for me was to fill the bunny with a small spoon and then spread the chocolate to the edge using a toothpick.  You may find using a piping bag works better for you – I tried it, but I felt more comfortable doing it my old school way.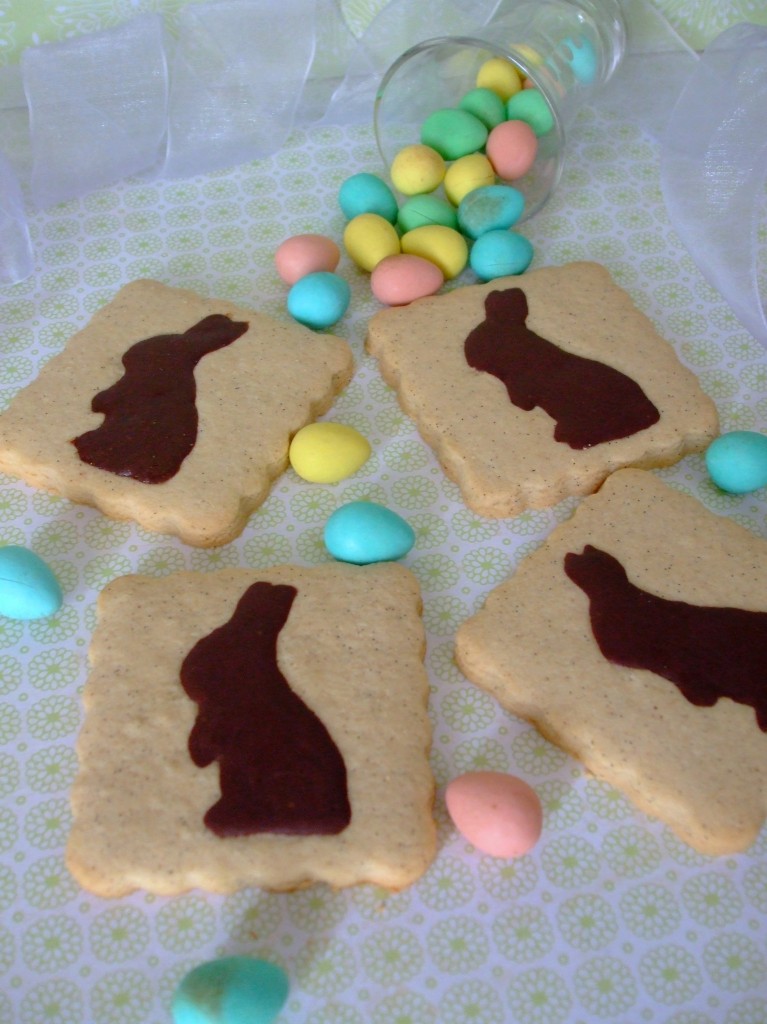 These cookies are perfect for celebrating Easter or spring.  Pure deliciousness!
Enjoy & thanks for stopping by! Comments are always welcomed.

Eva
Gluten Free Dairy Free Vanilla Bean Easter Cookie
Gluten Free Dairy Free Vanilla Bean cookies with a cute little chocolate bunny center. Perfect for Easter or springtime!
Ingredients
3/4 cup dairy free buttery spread, room temperature (or butter if dairy free version not required)
3/4 cup icing sugar, sifted
1 egg, room temperature
2 tbsp vanilla bean paste
1 cup + 2 tbsp brown rice flour
1 1/4 cup + 2 tbsp sorghum flour
1/2 cup almond flour
1/4 cup + 3 tbsp tapioca starch

For Dairy Free Chocolate Glaze:

1/8 cup mini chocolate chips (I used Enjoy Life Chocolate Mini Chips)
2 tsp dairy free buttery spread
Method
Combine flours and starch in medium bowl and set aside.
In bowl of mixer, beat dairy free spread and icing sugar until combined and fluffy.
Add egg and vanilla bean paste and mix until combined.
Add in flour mixture and mix until dough comes together into a soft ball.
Split dough in half, wrap each in plastic wrap and flatten into a disc. Refrigerate for at least 1 hour.
Preheat oven to 350°F. Spray or line cookie sheets with parchment paper and set aside.
Remove dough from refrigerator and roll out to 1/4" thick.
Stamp with bunny stamp leaving about 2" between each bunny. Center cutter around bunny and cut out the cookie.
Place cut-out cookies on cookie sheets and bake in oven for 12 min.
Remove from oven. Let cool on sheets for 2 min before transferring to wire racks to cool completely before filling with chocolate glaze.

For Dairy Free Chocolate Glaze:

Place chocolate chips with dairy free spread in microwaveable bowl and warm up for about 40 sec until melted.
Drop ¼" tsp of chocolate on bunny stamped portion and spread with a toothpick to edges.
Once flooded, gently tap on flat surface to smooth out and remove any air bubbles. You may find you work better with a piping bag – I did try with one, but I felt more comfortable doing it with a toothpick (even though it takes a bit longer).
Let dry completely (about 24 hours) before stacking cookies.
Notes
The quantity of cookies this recipe makes depends on your cutter size. I used a 2"x2" cutter which made 28 cookies.
http://www.pastelbakery.ca/gluten-free-dairy-free-vanilla-bean-easter-cookie/
Copyright 2014 Pastel Bakery: Gluten Free Desserts . All Rights Reserved | www.pastelbakery.ca